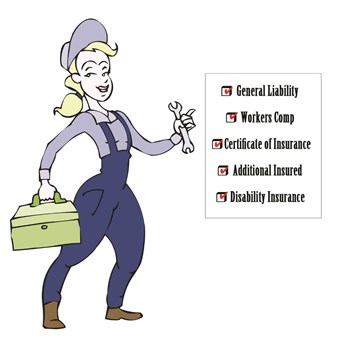 All professional contractors and service providers are required by law to carry insurance to cover their activities. Any condo building or HOA should also carry its own insurance to cover accidents or other incidents on the property—this could include anything from slip-and-falls to staff injuries to damage from doing electrical work.
The latter is important to help minimize risk. Lawyers advise that you can't always control your vendors' and contractors' safety habits, and negligence claims can easily end up in court and out of your hands, so it pays to make sure you don't expose your HOA or condo to serious liability and expense.
Are You Covered?
David Mankuta, an attorney and shareholder with the law firm of Fowler White Boggs PA in Fort Lauderdale, offers the following minimum coverages as a prerequisite to issuance or renewal of a general contractor license: a. Public liability $300,000, b. Property damage $50,000.
"A contract may require additional coverages to be provided," he says. "The owner (or owner's representative) should always verify insurances prior to signing the contract with the contractor. The owner should also require a Certificate of Issuance, which shows the building owner as an additional insured."
Michael Oberlander CIC, AAI of the Plastridge Insurance Agency in Delray Beach says that contractors must carry General Liability insurance and a license bond before doing any work legally in the state of Florida. Workers' compensation coverage is also necessary if they have employees.