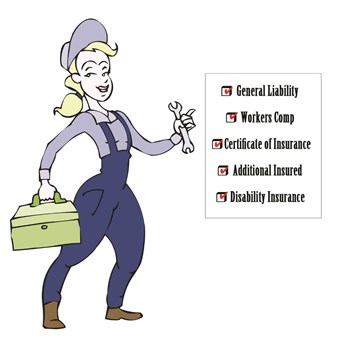 All professional contractors and service providers are required by law to carry insurance to cover their activities. Any condo building or HOA should also carry its own insurance to cover accidents or other incidents on the property—this could include anything from slip-and-falls to staff injuries to damage from doing electrical work.
The latter is important to help minimize risk. Lawyers advise that you can't always control your vendors' and contractors' safety habits, and negligence claims can easily end up in court and out of your hands, so it pays to make sure you don't expose your HOA or condo to serious liability and expense.
Are You Covered?
David Mankuta, an attorney and shareholder with the law firm of Fowler White Boggs PA in Fort Lauderdale, offers the following minimum coverages as a prerequisite to issuance or renewal of a general contractor license: a. Public liability $300,000, b. Property damage $50,000.
"A contract may require additional coverages to be provided," he says. "The owner (or owner's representative) should always verify insurances prior to signing the contract with the contractor. The owner should also require a Certificate of Issuance, which shows the building owner as an additional insured."
Michael Oberlander CIC, AAI of the Plastridge Insurance Agency in Delray Beach says that contractors must carry General Liability insurance and a license bond before doing any work legally in the state of Florida. Workers' compensation coverage is also necessary if they have employees.
The same holds true for specialty contractors like tree or window workers; they still need to obtain all the above insurance, regardless if they are working at a condo, co-op or HOA association.
"If the contractor's insurance is verified and the limits of insurance meet the contract he signed with the association before he started work, then there are no consequences," Oberlander says. "Otherwise, he is in breach of contract. The falsification of insurance documents should be reported to the Office of Insurance Regulation," which is a part of the Florida Department of Business and Professional Regulation (DBPR), he says.
There is no category in the Florida Construction Industry Board specifically for "window guys," so a window cleaning or replacement firm would more than likely require a general, building or residential contractor's license. Local municipalities or counties may have different or additional insurance requirements.
Checking for a license is also recommended, as an unlicensed contractor is usually uninsured as well. If a condo or association uses an unlicensed contractor and property damage occurs, the individual may have no way of reimbursing the association for damages caused. Furthermore, if a third party suffers an injury at the property, there may be no insurance coverage.
Deciding on the right amount of insurance can be tricky. An insurance agent is going to want you to purchase a great deal, but you don't want too much that the owners are going to object to the amount being too high. Talk with your lawyer and insurance agent to make sure you have enough coverage in the event something goes wrong.
"While there is no statute that says what limits they are required to carry, we recommend that any contractor carry at least $1 million in coverage," Michael Gorham, senior vice president of the Fort Lauderdale division of insurer Brown & Brown of Florida, Inc., says.
Oberlander recommends a board carry as much liability insurance as they can afford and says the board should obtain an insurance reproduction cost appraisal and work with their agent in determining the values to be insured for damage.
Case in Point
A few years ago, a roofer working on a roof replacement job at a South Florida condominium fell to his death when he placed a ladder on a raised truck-bed to reach the roof and the truck shifted, causing the ladder to fall.
While it might seem that the condo in that tragic situation wouldn't be liable for any damages related to the accident, that's not the case. Keith Carroll, owner of Rick Carroll Insurance in Jensen Beach notes that if a contractor is injured on association property, and the roofing company doesn't have insurance, or their insurance policy has lapsed, any survivors have the right to sue the association.
Even though the manager did his due diligence on the roof company he hired, what he didn't do was ask for proof of insurance—one of the biggest no-no's in the industry. Any lawyer will tell you, every contractor should be asked for proof of general liability, auto liability and workers compensation coverage before any work is done.
Sometimes a piece of paper isn't enough. A good rule of thumb is before hiring a contractor, a manager should always ask to see the contractor's or subcontractor's certificate of insurance, and also call the agent listed on the policy to ensure that it's still valid.
"It is the responsibility of the board of directors to verify a contractor's insurance before beginning work," Oberlander says. "They may delegate this to their property manager or an appointed committee to verify coverage."
Workers Comp
According to Carroll, all associations should have their own workers' compensation insurance so if a contractor's insurance policy doesn't have the proper coverage, the association's own policy can fill in the gaps.
"The association may be liable only when the contractor has no workers' compensation insurance in force," Oberlander says. "Since the association's liability insurance policy will not defend or pay a work-related injury, it is always recommended that the association purchase their own WC insurance to cover incidents similar to this."
Oberlander says that anyone working on a property is considered a for-hire worker and therefore the remedy for injury is covered by workers' compensation insurance.
According to Florida law, any employer who employs one or more part- or full-time employees must obtain workers' compensation coverage. This would cover proprietors, partners and corporate officers as well as all workers.
Gorham says the state of Florida requires contractors with more than one employee to carry workers' comp for their employees. If a company is a sole proprietor and has no employees, they may exempt themselves from this; however, he always highly recommends against allowing exempt employees to work on the properties he represents.
Any contractor who subcontracts any work being done in a condo or HOA must obtain proof of workers' compensation coverage or a Certificate of Election to be exempt from all subcontractors, prior to work being done. If the sub-contractor is not covered or exempt, for purposes of workers' compensation coverage, the sub-contractor's employees shall become the employees of the contractor. That means the contractor will be responsible to pay any benefits to the subcontractor and its employees.
Mankuta says if the worker has been injured as a result of the work in a project, then worker's' compensation insurance will provide coverage, per Florida Statute 489.114, which requires that every contractor must provide evidence of worker's compensation insurance prior to the issuance or renewal of a contracting license.
"The failure to maintain workers' compensation insurance shall result in revocation, suspension or denial of the issuance or renewal of a registration or certification of the contractor," he says.
Beware of Fraudulent Contractors
Most lawyers and insurance agents have dealt with a contractor who was not really insured either because of a mistake or more likely, because they were trying to get away with something.
According to Mankuta, by Florida statute, the Construction Industry Licensing Board can place a license holder on probation, reprimand the license, revoke, suspend or deny the renewal of a license; require financial restitution for harm directly related to a violation, and/or impose a fine not to exceed $10,000.00 per violation.
This would be one of the rare circumstances when an HOA or condo building is held liable for injuries or damages suffered by a contractor's employee on the building's property. If a contractor is not carrying proper insurance for his employees and they get hurt, the condo could then become liable for their medical bills.
"If, as a result of some condition on the premises, unrelated to the project, a worker is injured, it may result in a negligence claim against the building owner," Mankuta says. "Any worker injured in connection with work on the project should be covered by the contractor's worker's compensation insurance."
In the economic environment South Floridians currently live in, there are many contractors who make promises of quick and inexpensive repairs but this shouldn't stop a board from carefully choosing a contractor to make sure the contractor is properly licensed and insured.
Keith Loria is a freelance writer and a frequent contributor to The South Florida Cooperator.