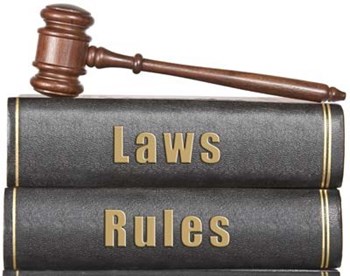 Differences and disputes happen. We're only human, and that's why laws and rules are in place. But, the federalist system of government we use in this country is far from the most efficient system. Layers and layers of laws, statutes, and regulations fall on associations.
First there's the condominium declaration and bylaws. There are the house rules that can be separate from the bylaws. Then there are municipal codes and ordinances that can cover anything from how many trees need to be on the association's property to plumbing to civil rights issues. On top of that, there are state laws and statutes drafted and passed by the Florida legislature; and finally, there are federal laws and regulations. Associations and their counsel need to keep abreast of all of them, because they all trump declarations and bylaws. What might seem fair on a federal level could be more complicated on a state level, and if your declarations are not up to date, silly legal issues can spiral out of control.
I Declare
When it comes to association rules and declarations, most states have laws in place that establish standards for how boards and associations should conduct their work. But, association bylaws and declarations are still a separate entity, and it's not always that state law simply trumps anything in the declarations, says Ben Solomon, an attorney and senior partner at the Association Law Group in Miami. Generally, when in conflict, "federal, state, or local laws will supersede restrictions under an association's governing documents," he says. "However, such association documents may be more restrictive than such laws, so long as they are not in conflict." Since most board members are not trained real estate attorneys, there's no way for them to tell which law would be superseded and which wouldn't. "My advice to the client is, is to look to see how restrictive their rule is versus what the law is. If it totally changes it and flips it over, then most likely the law is going to trump," says Rachel Frydman, an attorney and founding managing member at The Frydman Law Group PLLC in Plantation. "But if the rules that they have aren't as restrictive as the law, then most likely their rule will likely stay in place. If you have a covenant restriction, then I go back to say 'does this association have to follow the laws as they become amended, or are they allowed to stay within the current statute?' There's analysis you have to do to see what law would trump what and what wouldn't," she says.
If boards do find that their documents, whether they be bylaws or declarations, are not syncing up with new laws, Solomon says there are a few ways to react. "Although an amendment to the document that's in conflict would be ideal to make it comply with the current law, if the same can be achieved without overly burdening the association, technically the association doesn't need to do anything but comply with the new law regardless of the conflict under their own documents. The general rule on conflicts would govern, meaning that the new law would automatically supersede the conflict in the document," he says.
Something Old, Something New...
A lot of the discrepancies that associations find they have with new laws usually involves technicalities. "For example they amended a document regarding fining. When they put fining in the statutes, it said 'unless your documents say otherwise, you fine up to $100 per day,' so you have to determine whether your documents have a certain dollar amount for a fine, or whether the statute's going to kick in," says Frydman.