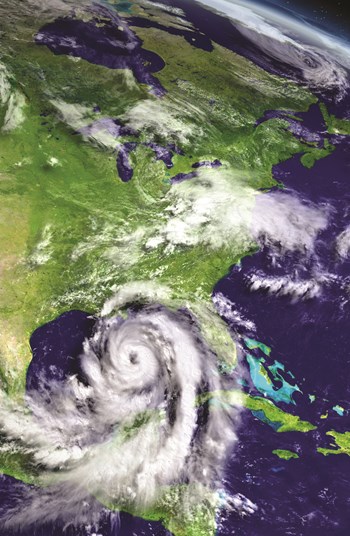 Despite being known as the Sunshine State, Florida residents know all too well the perils of heavy rains, hail, wind and hurricanes. Both the Atlantic and Gulf coasts are vulnerable to hurricanes, and even with savvy, proactive storm preparation and evacuation plans, condos and associations in the state will inevitably suffer damage when a big one blows through. How communities pull together after the rain stops and the wind dies down—with leadership and guidance from their boards and management professionals—can determine how quickly life returns to normal for residents and administrators alike.
First Steps
Once residents, kids and pets are accounted for (whether they've evacuated or sheltered in place) and it's safe to venture out, board members, property managers or HOA staff should do an evaluation of the property and take immediate action to mitigate any damages. Sergio Ubilla, district manager with KW Property Management & Consulting, which has offices in Florida, New York and the Bahamas, notes this is a critical time for any community.
"We want to make sure that all residents remain safe, and that we provide the necessary support to the community," he says. "Our property managers are instructed to first complete a damage survey. Once the survey is complete, the property manager is then instructed to complete an action plan."
Rick Dingle, vice president of FirstService Residential in Hollywood, says that as soon as is it is safe to leave your home or re-enter your community, place tarps over damaged roofs, windows and doors, and safely remove debris to reduce the threat of injuries and further damage and be aware of downed power lines.
"At FirstService, we take our responsibility to our communities before, during and after a storm very seriously," Dingle says. "After a storm, we are prepared to act quickly, put our plan in motion—each of our communities has a customized hurricane plan created just for them way before storm season—and prep for rebuilding. In fact, right after Hurricane Sandy, FirstService provided $10 million in immediate emergency funds to devastated communities, allowing them to quickly begin restoration efforts—and ensuring a natural disaster didn't become a financial one as well."
It's important that things are inspected and safeguards for the building are in place.
"Any holes in the roof or building exterior need to be secured with tarp, plywood, or other suitable material," says Howard Perl, an attorney and shareholder with law firm Becker & Poliakoff in Fort Lauderdale and a former property manager. "Wet material that can lead to mold should be removed from the buildings, but not discarded until the insurance company has had a chance to document the damage."
In fact, Perl continues, individual residents and community administrators alike should document all existing damage with photos and videos as soon as it can be done safely, and contact your insurance agent and vendors as required by your policies and contracts.
Damage from wind-blown rain, water, and other, sometimes unseen factors are the most common types of post-storm damage to HOAs and condos.
"Unseen damage is a type of damage that is not apparent to an untrained professional that wouldn't be revealed except by a professional inspection," Perl says. "For example, after a wind event, perhaps a visual inspection does not reveal any roof damage. You still need a roofer and insurance representative to inspect the roof, as there may have been lifting of the roof materials that would not show up just by a visual inspection but should always be inspected by professionals after any storm or wind event."
Lynne McChristian, a Florida representative for the national Insurance Information Institute, says inspecting your property for damage should start at the top.
"Roof damage that goes undetected only gets worse," she says. "Another thing to check are trees. If the storm was severe enough to damage a roof, you can bet there are trees that took a hit as well. A significant amount of damage from the recent Hurricane Hermine in the Big Bend area of Florida was due to fallen trees; many were weak and diseased, and if they had been inspected and removed before the storm, damage to property would have been greatly reduced."
There are some things that a staff can do to start the process even before a contractor or government agency shows up to help. These include removing all wet material to prevent mold growth, clearing debris, securing the area, documenting the damage with photos and video, keeping all discarded material until insurance reviews, and taking appropriate actions to remediate damages. Policyholders have a responsibility to take steps to prevent further damage, McChristian says. That means to cover openings that may have been damaged to keep wind and rain out.
"The labor and supplies to make these temporary repairs are reimbursable, so keep receipts to file with your insurance claim," she says. "You can also begin the cleanup process, being sure to document and take photos of damaged property. Remember that your insurer can help guide you through the process, so ask questions and keep good records."
Danny Reyes, owner of restoration services company Restoration 1 in Doral, notes that within the first 24 hours after a storm, building staff should check for any visible structural damage, such as warping, loosened or cracked foundation elements, cracks, and holes. Management or a board representative should also contact utility companies immediately if you suspect damage to water, gas, electric, or sewer lines.
Staying Informed
Luckily, there are plenty of helpful resources available to guide boards and property managers through the challenges that often arise from a storm. Many local governments have printed and online materials in place to help their communities prepare for disasters. The Red Cross and all the local news stations also have information available on their websites, and it's a smart idea to print these out before a weather event occurs.
Becker & Poliakoff provides classes on a regular basis that provide information about how to prepare for a storm or other disaster, as well as tips for a speedier recovery during the aftermath. Perl says that he recommends that someone from every condo or HOA they represent to attend at least one of these courses annually.
Internally, KW Property Management provides a training during the month of February for all the property managers on what they need to do to prepare the community for weather events.
"We also review in detail our standard operating procedures and provide templates that help the property managers communicate and prepare for the weather event," Ubilla says. "Some of the documents that we provide internally include the Hurricane Procedure Manual, the Hurricane Preparedness Letter to the Owners, KWPM Hurricane Procedures to BOD, an Emergency Preparedness Checklist and Manager Advisory Notices."
McChristian notes an often-overlooked source for preparing for natural disasters is your building or HOA's insurance professional.
"At least once a year, it's important to check in with your insurer to verify that your coverage is still meeting your needs," she says. "In fact, property managers should always invite their insurance agent or broker on site to do a physical inspection because that extra pair of eyes can spot certain hazards and present options for managing weather risks and risks of any kind."
The Ft. Lauderdale Office of Domestic Preparation & Emergency Management Bureau recommends calling the city's hurricane emergency hotline at 954-828-8888 and listen to radio station 1610 AM for important updates after a major storm. There are also numerous storm-tracking devices and apps.
Be Smart
Joshua Krut is a partner at Kopelowitz Ostrow Ferguson Weiselberg Gilbert law firm. which has offices in Fort Lauderdale, Coral Gables and Boca Raton. He heads the firm's community association practice, club and resort practice, serving as outside general counsel to condominium associations and HOAs. His top tip for a quicker post-storm comeback is to designate a board member to coordinate the preparation and cleanup of a disaster with management.
"There should also be a board member who fields community questions," he says. "Make sure the generators are working and that there is enough fuel to run them. Also, make sure there is water, batteries and other supplies" on hand for those who choose to shelter in place, as well as returning residents who may need to inspect or secure their property before electricity or running water is restored.
Other things associations should be doing are ensuring all files, both paper and electronic, are secured; making sure managers and board members get copies of insurance policies; having a plan in place to clean afterwards; and having an easy-to-get list of all owners with emergency contact numbers.
After a storm, things can move as quickly as the hurricane itself with trying to get everything back to normal. This could lead to residents, staff and managers making some critical mistakes in the hours and days immediately following a weather crisis.
"Don't lower standards," Perl says. "Do not hire a contractor without verifying their license, insurance and references. Legitimate out-of-state contractors that flock to an area after an event already have local licenses and insurance in place. Check references as well."
Other all-too-common mistakes include failing to inspect the property and its various components for hidden damages, hiring a roofing contractor to repair a leak, instead of hiring a tarp contractor to install a tarp, performing work before insurance has inspected or authorized the work, and allowing untrained staff to use chainsaws or other dangerous tools.
Another big mistake is failing to provide the best contact information to key players in both the crisis preparation and crisis aftermath management—especially to your insurer and claims adjuster. McChristian says that if an insurer only has an office phone number or home phone number, but the main contact person is displaced due to damage, then they cannot connect with you to expedite the claims process—and that kind of delay can cost you dearly.
Perl cites a real-life example of a big mess a large HOA almost found itself in after Hurricane Andrew.
"It was about to hire an out-of-state contractor to clear the debris in the roads in the community," he says. "The contract was large—about $30,000. Right before the contract was to be signed by a panicked board of directors, the manager did some research on the contractor. The company was not a legitimate business in the state they claimed to be from, were not licensed or insured, and even had several Better Business Bureau complaints filed against them. A diligent manager did his job and saved the association from going down a bad path."
Ubilla concurs, and adds that other avoidable blunders include returning to the property without obtaining up-to-date information about whether the property/unit is safe to move about, and attempting repairs on one's own unit without professional advice.
Dingle adds that managers must be aware of the possible suspension of statute requirements or a state of emergency is enacted which may give the board flexibility to act as needed, regarding vendor payments and repairs.
Final Thoughts
The refrain from all the pros spoken to for this piece is that one of the most important things to do following a storm is to just stay calm and not rush into anything. Beware of driving into water-swamped streets; avoid standing in water, or anywhere near electrical wires or power lines; don't risk your life by trying to return to a damaged property before emergency professionals have declared it safe to do so. In short, think before you act, and make smart decisions. Sure, you want to get everyone back in their homes quickly, but not at the expense of being safe.
Keith Loria is a freelance writer and reporter and a frequent contributor to The South Florida Cooperator.