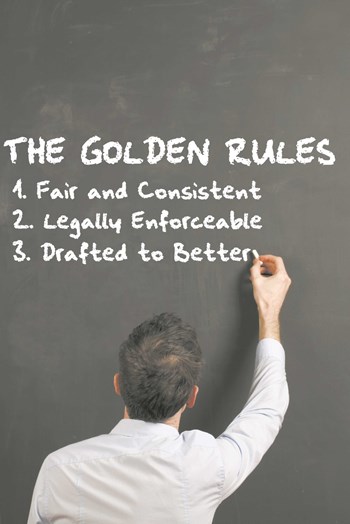 Nothing stays the same forever. As community standards, attitudes and populations shift and evolve, rules and regulations that once made sense or that reflected the views and standards of their day can become antiquated, irrelevant, or just plain silly. Those changes often necessitate the amendment of existing ones—or the drafting of new ones—to fit the new paradigm.
"Criteria that a board should use when considering a new rule include its fairness to the entire membership, its enforceability, and its ability to serve a purpose that will better the community," says Judi Allen, district manager at KW Property Management & Consulting in Clearwater.
Since the oldest community associations in Florida were created in the late 1950's, you won't find archaic rules that you might see in other states (such as not allowing residents to tether their horse carriages to the railing out front in certain New York City co-ops, for example), but that doesn't mean that all rules are completely up to date.
There are plenty of associations that have now-defunct satellite dish restrictions and age restrictions on their books that are no longer enforceable and should be removed to avoid both confusion and claims of discrimination or illegality.
"The first thing a community has to consider is whether the restriction legally has to be in the declaration to be enforceable and that's fairly complicated," says Kenneth Direktor, an attorney with Becker & Poliakoff in West Palm Beach. "A declaration by condominiums and HOAs is not required to be 'reasonable'—they simply can't be contrary to the law. Rules and regulations have to be reasonable."
It's important that HOA administrators understand the parameters in drafting fair, enforceable, legally sound rules, and how to properly change or repeal outmoded rules and regulations that no longer make sense for their community.
"We cover this territory very thoroughly in our Board Member Boot Camp, which is a state-approved course designed to certify Florida's board members for service to their communities," says Donna DiMaggio Berger, a managing partner with the community association law firm of Katzman Garfinkel & Berger in Fort Lauderdale. "Bill and Susan Raphan, who were formerly with the Florida Condominium Ombudsman's Office, are now Statewide Education Facilitators, and teach series of courses for directors and managers around the state. Passing proper rules is one of them."
A Good Rule
Bylaws and rules should reflect the values and expectations of the building; they should make sense, and be kept up-to-date.
"Boards should only make changes to rules when it contributes to the quality of life for the entire community," Allen says. "Don't make a rule change that is intended to be punitive. You need to ensure that the rule is fair, enforceable, and reasonable to implement."
A sound, enforceable rule is one that is rational, and based on the goal of protecting the rights of all community residents. In addition, one must think clearly about the methods and procedures for enforcing a rule or policy. Without a system of enforcement, the policy or rule is useless.
"Boards need to have a clear understanding of what they are trying to accomplish and what behavior they are trying to regulate," Direktor says. "They need to ask themselves if they are prepared to enforce it. If not, don't add it. If you aren't going to enforce a rule once you are confronted with a violation, it doesn't belong in rules in the first place."
A Time for Change
Boards considering rule changes should consult their association attorney if they are not certain that they have authority to pass such rules and if they are not certain how to word the rules to ensure that they are reasonable.
"Sometimes the restriction is tied to a monetary component and other times it is not," Berger says. "If there are no restrictions requiring boards to obtain membership approval to adopt rules, then a majority of the board can vote to do so."
The process to change rules is dependent on what the community's documents provide. Some documents require membership approval before boards can pass certain rules or, in the most rare circumstances, any rules.
"In order to change a rule, the board of directors must convey the intended changes in writing, and mail a copy to the membership. A strong board will also have the rules mailed to any tenants who may be in the community rather than relying on an owner to share the rules changes with their tenant(s)," Allen says. "If the change to the rules will impact any of the other governing documents of the association that will require a vote."
A board contemplating a change or addition to their community's rules must first confirm that it has the authority to do so under their own governing documents. The authority of some boards is constrained by the governing documents, while others may enjoy a very wide berth when it comes to passing rules and regulations.
"Once the board confirms that it can adopt rules, either with or without membership approval, it must identify the problem or issue it is trying to address and then adopt a rule that is the most reasonable way of handling the problem or issue," Berger says. "Rules cannot conflict with provisions in the governing documents, nor can they be discriminatory in intent or application. Rules cannot create new restrictions where the governing documents are silent on the issue."
Common Changes
According to the pros, two rule changes that pop up quite a bit concern pets and smoking. Both are hot issues, and many times boards try to write rules about these items without following what their governing documents say.
"A classic example of this is a board attempting to pass a no pet rule or a no leasing rule when the governing documents are silent on those issues," Berger says. "The absence of such restrictions in the governing documents has been interpreted by the courts as an implied right and any attempt to alter those rights would have to be done via an amendment to the documents rather than via board rule alone."
Other common rules concern what people are expected to do if they plan to be away from their condo during hurricane season. These rules deal with closing shutters, keeping their air conditioners set at a certain temperature, or turning off their water.
Mistakes and Blunders
One thing to keep in mind is that a rule will not be deemed reasonable if it has a disproportionate impact on just a few of the community's residents.
For example, some boards have passed a "no diapers in the pool" rule in a thinly-veiled attempt to discourage families with young children from using the community pool. Others have tried to pass rules limiting children's use of the pool to the hours between 10 a.m. and 3 p.m.—when all but the smallest kids are usually in school.
"Any changes to rules that impact unit use in a condominium must be preceded by 14-day advance notice to the membership so that they may attend such board meeting and listen to the dialogue on the reasons the board is contemplating such a rule change," Berger says. "Some boards neglect to give the proper notice for such a board meeting."
Boards would also be well advised to gather membership input from its residents before passing a rule. This doesn't mean that the board must get their approval (unless the governing documents requires it, as discussed above) but it does mean that an elected board should be sensitive to the membership's desires.
"Does the membership really see the need for and support an open beverage rule at the pool?" asks Berger. "If a board passes a series of rules that the membership sees as unnecessary or overly burdensome, it might very well cut those directors' service on the board short."
The biggest mistake that boards make is that once created, they generally tend to fail to enforce it or only enforce it selectively.
"There's a certain dynamic in place when people sit down to write rules. People come up with ideas and in the context these ideas seem great and you wind up with 20 pages of rules," Direktor says. "At the end of the day, they may reflect some tremendous creativity but many cases have no relationship to the reality of what the community is prepared to enforce or live by."
Also, don't regulate just for the sake of regulating. If you are going to adopt a rule, use plain English and clearly state what behavior is prohibited.
"If you are going to enforce it, draft it that way," Direktor says. "A lot of rules drafted tend not to say what they really mean—using legalese incorrectly—and you don't want to find out it was not drafted correctly after it's violated and adopted. By speaking with counsel, you can get the benefit of how these rules are drafted and how they have fared when challenged."
If a board of directors is considering amending or adding to their rules and regulations, then they should seek input from their property management company to determine if the change is feasible, what the emotional reaction may be from the membership and whether their association attorney should be involved.
Keith Loria is a freelance writer and a frequent contributor to The South Florida Cooperator.