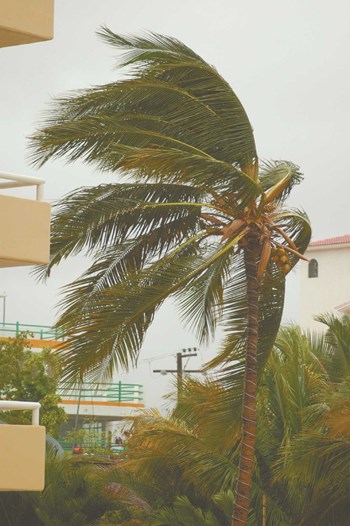 With the last major hurricane to hit the state of Florida occurring back in 2005, it's a somewhat natural phenomenon for Floridians to become more and more complacent with each passing "quiet" hurricane season. However, the recent spate of deadly tornadoes that ripped through five southern states in late April, resulting in insured damages estimated to total as much as $5 billion, is a stern reminder that preparedness for the looming hurricane season is an imperative that can't be ignored.
While insurance coverage—particularly for windstorm protection—is mandatory for nearly all homeowners and associations, the amount and types of coverage can vary. Having the right coverage is essential in mitigating potential out-of-pocket losses—the very kinds of losses that can spell financial disaster for cash-strapped associations and homeowners alike.
What's Covered
For owners of single family homes, property coverage is a relatively straightforward proposition, albeit one that is becoming increasingly expensive. Standard homeowner policies generally provide coverage for the dwelling, personal property, liability, medical payments and loss of use.
Unfortunately, many homeowners—including condo owners—don't realize that damage caused by flooding is not covered by their homeowner policy. And the emergency coverage provided by the federal government (federal disaster assistance) is only available once the President declares a major disaster.
Of course, many homeowners are required by their mortgage lenders to carry flood insurance, as determined (via a survey) by whether the home is located in a high-risk area. But others run the risk of suffering catastrophic losses; many of these people believing mistakenly that either their homeowner policy protects them or that by being in a lower risk location they have little to worry about. In fact, the National Flood Insurance Program (NFIP) estimates that approximately 20 percent of all flood insurance claims come from moderate to low risk areas.
For condo and co-op owners coverage is regulated and mandated. Florida Statutes—§718.111 (11) (f)—dictate that: "Every hazard insurance policy issued or renewed on or after January 1, 2009, for the purpose of protecting the condominium shall provide primary coverage for:
All portions of the condominium property as originally installed or replacement of like kind and quality, in accordance with the original plans and specifications.
All alterations or additions made to the condominium property or association property pursuant to §718.113(2).
The coverage shall exclude all personal property within the unit or limited common elements, and floor, wall, and ceiling coverings, electrical fixtures, appliances, water heaters, water filters, built-in cabinets and countertops, and window treatments, including curtains, drapes, blinds, hardware, and similar window treatment components, or replacements of any of the foregoing."
Notice that excluded from these master policies is everything inside an individual unit owner's home. For that protection, unit owners purchase HO-6 insurance, which covers personal property, personal liability, and the physical unit from the walls in. Actually, the requirement for unit owners to insure their individual property is also implicit in §718.111 (11) (g), as initially implemented in 2008 along with a mechanism to ensure that unit owners were complying with the statute. The message seemed clear; the state wanted to make sure risk was spread amongst the various stakeholders and that everyone was properly protected.
People and Politics
But as with most things political, messages are often not so clear and not everyone buys into the message. So, in 2010 after a game of political football between then-Governor Charlie Crist and the Florida Legislature, Florida removed the statutory mechanisms for ensuring compliance. That effectively shifted that responsibility to the associations themselves. It's something many associations are ill-equipped to handle, said Troy Visser, president of Universal Condominium Insurance, Inc., one of Florida's largest insurance underwriters.
According to Visser, "With good intentions, the state tried to fix this problem back in 2008. Unfortunately, the failure of that effort has resulted in vague language regarding the responsibilities of associations."
"It's not a problem for new condo purchases financed with a mortgage or anyone refinancing an existing property," said Tony Acquaviva, a broker and the owner of U.S. Mortgage of Florida, a correspondent mortgage lender based in Boca Raton. Acquaviva noted that lenders now strictly require "that premiums for the HO-6 policy be escrowed in the mortgage payment."
Still, that leaves a problematic gray area with respect to cash buyers and existing owners, especially in these tougher economic times when some homeowners are looking to cut corners on expenses wherever possible. Visser said it's an issue that probably will gain more traction the next time Florida bears the brunt of a major hurricane and uninsured unit owners are unable to restore their damaged homes. He suggests that associations review their regulations and make sure they contain specific language that leaves no doubt as to the responsibility of owners to obtain and maintain proper insurance.
Getting Covered
Purchasing HO-6 coverage is not a difficult task. Lee Burke, president of Burke Bogart & Brownell, a local south Florida insurance agency, noted that policies are widely available and fairly standard, though it's very important for a unit owner to purchase the right level of coverage with the right add-ons.
The most important add-ons to consider are replacement cost (instead of the less expensive cash value option), and increasing the standard special assessment coverage beyond the $2,000 minimum required by Florida statute.
Visser quipped that homeowners should always choose replacement value "otherwise they could end up getting garage sale prices instead of what it really costs to replace damaged items." He said owners shouldn't shortchange themselves when it comes to valuing their possessions, especially bigger ticket items such as kitchen and bathroom cabinets, granite countertops and high-end appliances and electronics.
Special assessment coverage provides reimbursement for an assessment charged against all unit owners for an uninsured loss that the association sustains. Both Visser and Burke agreed that $5,000 is a reasonable amount of coverage and should always be chosen over the standard $2,000 level.
Traditionally, pricing for property insurance in Florida was largely a factor of location and geography, coupled with prior claim experience on the part of insurance companies. After Hurricane Andrew in 1992, that changed as new building codes were implemented in 1995 in Miami-Dade, Broward and Palm Beach counties. The new codes created an important divide between homes built prior to the new codes and those built after. The state of Florida followed up in 2001 with the implementation of codes that created a similar divide throughout the remaining counties and made the codes for Miami-Dade and Broward even tougher. Residences built prior to the change in codes are simply more expensive to insure. In some cases they are also harder to insure. Burke estimates that about three quarters of the insurance companies doing business in Florida won't even write policies for buildings built prior to 1995. "It doesn't mean you can't insure a pre-1995 or pre-2001 property," said Burke, "but it does mean that rates could be significantly higher and coverages may not be quite as favorable."
The new codes essentially place more stringent requirements on roof design, materials and features, wall construction and the protection of door and window openings. Buildings must be designed to protect glazed openings or to withstand the increase in internal pressures that will occur if an unprotected window or glass door is broken by debris.
The 2001 codes also included the designation of wind zones that require special consideration from architects and engineers and hence get special consideration by insurers. Generally speaking, the most stringent codes and most expensive properties to insure are located within 1,500 feet of the coastline, followed by homes within one mile of the coast.
Visser adds that "a few years ago people would have said that the further south you go the higher the rates. But model has changed and proximity to the coast and location within the various wind zones is a greater determining factor."
Reducing Risk, and Rates
Homeowners and associations can reduce their rates by taking advantage of windstorm mitigation inspections. The state has also mandated that discounts be given to policyholders based on the results of these inspections. For HO-6 policyholders, an inspector will come to their property and check for door and window protection such as shutters or impact-resistant glass, as well as the design of their building's roof system, materials used and the age of the roof. Costs generally average about $100. The process is similar for association properties though inspection costs are significantly higher, especially for high rise and high capacity buildings.
But Hurricane Andrew didn't just change the way properties were built and insured, it also marked the start of major changes in the insurance marketplace. The outgrowth of those changes was the creation in 2002 of Citizens Property Insurance Corporation by the Florida Legislature—Statute §627.351(6)—creating an insurer of last resort to fill a growing void in the marketplace. That void became even greater following the wave of 8 major hurricanes that impacted the state in 2004 and 2005, with more and more insurers either leaving the state or severely curtailing their presence.
Since its inception, Citizens has grown by leaps and bounds, from total policies of approximately 517,000 in 2002 to a current tally of about 1.3 million policies. In fact, Citizens' market share is nearly double that of its next largest colleague, State Farm Florida, which had approximately 679,000 policies in force as of September 2010 (as reported by the Florida Office of Insurance Regulation).
A key difference between Citizens and other insurers is that Citizens is a public entity that finances risk with debt post-loss, i.e. after an insurable event, as well as with assessments on current policyholders. Visser terms Citizens as the "600-pound gorilla in the room" because of what he sees as the politically-driven, artificially low rates they've been allowed to charge. The reality, Visser said, is that private insurance companies simply can't afford to compete in the Florida market.
Change is coming, though it may not be to everyone's liking. Governor Rick Scott has indicated that he'd like to see Citizens phased out, though the Legislature now seems inclined to take a slower approach, no doubt driven by voter reaction, with a rate increase of 10 percent having been approved at the recently completed legislative session. Two things do seem certain; even higher rates are coming and sooner or later another major hurricane will make landfall in Florida. Together they spell windier conditions in the future for Florida's property owners and managers.
Barry Rothman is a freelance writer and foreclosure mediation counselor living in Delray Beach, Florida.