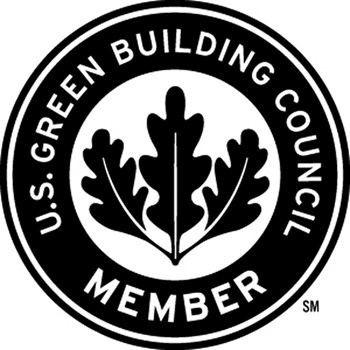 It seems that nearly everything is going "green" these days. Whether it's the special green issue of a popular consumer magazine, an advertisement for a fuel-efficient hybrid car or a push toward environmentally-friendly building materials, the message is clear: green is here to stay. But the idea of green building is not new—it's been the primary mission of the U.S. Green Buildings Council (USGBC) since the organization's founding in 1993.
This non-profit organization, based in Washington, D.C., emphasizes environmentally friendly construction and design through education, research and advocacy. Tied to its vision statement, the USGBC has an ambitious goal: Green buildings for everyone within a generation.
"Our whole mission is in market transition," says Judith Webb, senior vice president of marketing and communications for the USGBC. "We will run ourselves out of business because eventually, every building will be green."
Why Go Green?
With the majority of people's time spent indoors, a clean, healthy indoor environment is essential to everyone's well-being.
"Green buildings are healthier places," says Webb. "We want to create human habitats that have clean lighting [and] good air, that are non-toxic, that have good acoustics and so on. The building type doesn't matter, [because] we spend 90 percent of our time indoors. Shouldn't we do everything we can to make those spaces as healthy as they can be?"
And when buildings go green—or start incorporating green ideas and practices— the result yields not only a healthier indoor environment, but a reduction in energy use as well. Green buildings are also beneficial to the outdoor environment.
"When you make the air cleaner and fresher, you can also reduce the energy you use," says Webb. "You can install fixtures that use less water and proactively recycle waste so it will not end up in a landfill. Those are the kinds of issues we're trying to get people to make better decisions about."
The LEED Program
The organization's Leadership in Energy and Environmental Design (LEED) program is setting the standard when it comes to green design and building. Through its third-party certification program, the USGBC has created criteria for what makes a truly green building—and it's not just simply installing energy efficient light bulbs.
"We've developed LEED, a certification program that gives everyone a common language or metric against which to develop properties. We have a third party who comes in and certifies that it is a green building," says Webb.
"It is more than installing CFLs and bamboo flooring," Webb continues. "It's not just using energy efficiently. It's also water, materials, where you site the building, the air quality—all of those things within our rating system set a metric against which people can measure which side of the line they're on. It's rigorous, and it's replicable. Now we can go back and measure buildings on that standard, and know that they will save at least 30 percent in energy, have better air quality, and so on."
The USGBC in SOFLA
Though the U.S. Green Buildings Council is a national organization, it has more than 78 local chapters to help the organization meet its goals throughout the country. Southern Florida has its own chapter, founded in 2004, based in Lake Worth and covering Monroe, Miami-Dade, Broward, Palm Beach, Martin, St. Lucie, Okeechobee, and Indian River Counties. These counties are grouped into three Branches: Miami-Dade and the Keys, Broward, and Treasure Coast and Palm Beach.
The mission and goals of the USGBCSF largely mirror those of the larger national organization, emphasizing the issues and challenges particular to the region.
According to the chapter's website (www.usgbcsf.org), the group's vision is "to support buildings and communities that will regenerate and sustain the health and vitality of the local South Florida region within a generation." The chapter seeks "to transform the way buildings and communities are designed, built and operated, enabling an environmentally and socially responsible, healthy and prosperous environment that improves the quality of life for the South Florida community."
According to the USGBCSF's official Strategic Plan for 2009-2013: "With the extensive development of our chapter's region, the need for building practices that mitigate the affects of expansion and development on the livability of communities and their ecosystems is more critical than ever. The USGBCSF is at the forefront of transforming the regional marketplace to support green building practices—a proven method of reducing the impact of buildings on people and the planet, while improving economic value for building owners."
According to the South Florida chapter's literature, in its first five years, the USGBCSF focused the bulk of its efforts on grassroots organization, and then began branching out by furthering relationships with strategic partnerships with public and private organizations. This approach has paid off. "Though still very much in its infancy from an association standpoint, the chapter is already recognized as a key 'go to' organization for green building in the region."
An explicitly spelled-out mission statement and goal-set guides the USGBCSF's organizational efforts. According to its latest strategic plan, in the next five years, the USGBCSF will focus on:
Further refining the organizational policies needed for effective governance;
• Presenting high-quality educational programs;
• Funding and marketing of the chapter's mission to achieve membership growth and community outreach;
• Developing a policy- and vision-oriented governance board complemented by a strong staff presence;
Leveraging resources through collaborations internally among branches and externally with other chapters within the region, along with other organizations and businesses.
Education, Strengths and Challenges
In order to realize these goals, the USGBCSF chapter offers a host of programming throughout the year to raise awareness of green building in general, and also to encourage real estate pros to earn professional LEED certification.
Through the South Florida Chapter, interested professionals can take advantage of courses like LEED 201: Core Concepts and Strategies, which according to an online course description, "provides essential knowledge of the LEED rating systems and sustainable building concepts for those seeking a better understanding of LEED or pursuing GBCI's LEED Green Associate credential. By presenting LEED concepts at the credit category level—across building types and rating systems—and basics on the building certification process, this workshop provides the foundation required for any 300-level LEED education offering. Real project examples help demonstrate and reinforce learning."
And the group's outreach doesn't stop with just educating local and regional pros. According to the USGBCSF, the chapter's successful development and implementation of its branch structure provides a 'roadmap to success' that is being shared with other chapters in the Florida-Caribbean Region and beyond. The chapter's mission and its educational goals are to lend its expertise and knowledge with others in the region.
Stephanie Mannino is a freelance writer and a frequent contributor to The South Florida Cooperator. Associate Editor Hannah Fons contributed to this article.