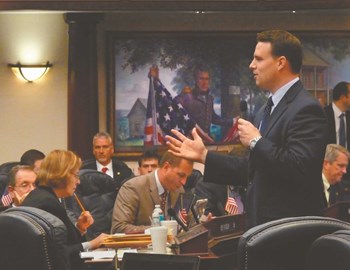 One of the most apt descriptions of politics theorizes that it's really all about who gets what, when, and how. With the 2010 elections having delivered Republicans supermajorities—veto proof power—in both of Florida's Legislative chambers, along with new Republican Governor Rick Scott, the 2011 legislative session was seen by some watchers as the first of many opportunities for Florida's uber-empowered legislative and executive branches to rubber-stamp each other's ideas.
Much of the recently concluded legislative session was driven by the thorny problem of a nearly $4 billion budget deficit. As it turns out, not all the decision-makers were in agreement on what, when and how to trim the budget. In the end, in-fighting among the many major players served to narrow the focus on reforms; specifically in the areas of Medicaid, state pensions and education, among other hot-button voter issues.
The net result, according to Donna DiMaggio Berger, Esq., executive director of the Florida Statewide Community Advocacy Network (CANFL), and the managing partner at the Fort Lauderdale-area law firm of Katzman, Garfinkel & Berger, specializing in the representation of community associations, was "a more subdued legislative session compared to previous years" in terms of actual activity impacting associations and homeowners.
In 2010's session, the Florida legislature passed Senate Bill 1196 (SB1196), which Berger characterized as having made substantive changes to the regulation and operation of condo associations, especially in granting associations additional tools with which to deal with non-paying owners—suspension of use rights, ability to collect tenant rents and evict tenants who fail to comply. Berger added that the 2011 session, which saw the passage of House Bill 1195 (HB 1195), was "more about sharpening those tools as opposed to creating new or more powerful tools."
This particular bill addressed some lingering issues created by SB1196 in a few key areas, including clarification of the following:
• States that condo buildings less than four stories high with exterior corridors are exempt from installing manual fire alarm systems.
• Permits associations to install impact glass and other code-compliant windows for hurricane protection provided that majority approval is obtained.
• Clarifies the ability of an association to create a unit owner directory which may include the unit owner's name, unit designation, mailing address; property address and any address required for notice, as well as (with written consent) the unit owner's e-mail address, fax number, phone number and any other address.
Another area addressed by HB 1195 makes an important change to Florida State Statute 718.116(1)(b)(2), relieving sub associations (or its successors or assigns) which acquire title as a result of a foreclosure from any liability to a master association for unpaid assessments, late fees, interest or reasonable attorney's fees and cost that came due prior to the prior to their taking title.
While HB 1195 reconciles and clarifies many of the remedies and regulations found in Chapters 718, 719 and 720 of the Florida Statutes, which respectively govern condominiums, cooperatives and homeowners' associations, many believe the legislature could have gone a bit further. Kenneth Direktor, who leads the statewide Community Association Practice Group of the south Florida-based law firm of Becker & Poliakoff, believes one important change was missed—a change in the election procedures for HOA boards. "Right now," said Direktor, "HOA statutes provide little or no guidance when it comes to nominating committees or the use of proxies."
Condo boards, he noted, are elected without the use of proxies and notice must be given well in advance of an election to have a name placed on the ballot. "But the potential exists that whoever shows up at an HOA election with the largest stack of proxies will get to control the board." Direktor feels that this missing 'fix' to the current statutes could come as early as the 2012 legislative session.
One single area where some degree of profound change did occur came via the passage of Senate Bill 408 (SB 408). As reported in the last edition of The South Florida Cooperator, the winds of change have been blowing for quite some time in the Florida insurance industry. With this Senate bill now in place, those winds are now much gustier. Many of the provisions of SB 408 have been in play for many years, with some having been shot down by a veto just last year by former Governor Charles Crist.
First, the bill makes changes to Section 626.70132, of the Florida Statutes, placing time limits for bringing a hurricane or sinkhole claim and creating a statute of limitations for bringing a breach of contract property insurance action in court. Prior to this legislation, there was no such time limit for filing such claims. Now, a claim, supplemental claim, or reopened claim must be submitted within 3 years after the hurricane first makes landfall or the windstorm causes damage. Also, an insured must now file a lawsuit following a property damage loss within 5 years from the date of loss instead of 5 years from the date of a claimed breach.
The creation of a deadline for filing claims is a dramatic change for boards and homeowners. Prior to this legislation, there has never been a legally-mandated deadline for filing a claim for windstorm or hurricane losses.
Most troubling to critics of the bill is that makes it makes it much more difficult, if not impossible, for homeowners and associations to be paid on claims when the damages are latent and go unnoticed for years after a storm. Berger noted that "while this set of changes presents extreme challenges for homeowners, the difficulties are further exacerbated for associations and managers given the nature of association governance, especially when you have board memberships that change often."
When a hurricane hits, however, the first thing on a property owner's mind isn't a filing deadline or limit on when they can file a lawsuit against their insurer. It's more basic than that—it's about how much they will get back from the insurance company and how hard it will be to receive those monies and pass them on to the various contractors they will need to hire to repair the damage.
Property owners now face a new system, whereby insurers will be allowed to initially pay only for the actual cost value of the damage—the cost of replacement minus depreciation—to a dwelling rather than the full replacement cost. If the costs do exceed the actual cost value, then the insurer will be required to pay for the full cost of the repair. While this system of reimbursement is prevalent in many other states, it's an important hurdle that Florida homeowners have never previously had to deal with. It should be noted that when a dwelling is completely destroyed the insurer must still reimburse for replacement cost minus only the policy deductible.
Central to Governor Scott's agenda was a push to reduce taxes wherever and whenever possible. With respect to real estate, that initiative resulted in the passage of "Homestead & Non-Homestead Properties, House Joint Resolution 381 (HJR 381). Passage of HJR 381 means that a constitutional amendment will be placed on the statewide ballot in 2012, which if passed would reduce the yearly assessment cap on non-homestead property from 10% to just 5%; prohibit tax increases if the just value of a property decreases; and create additional exemptions for first time buyers.
The additional exemptions for first time buyers essentially comes in the form of a property tax discount of 50% of a home's assessed value, which then phases out over a 5-year period as the traditional "Save Our Homes" discount is phased in. Given the sluggish real estate market that continues to plague Florida, it's hoped that this added incentive will help to further spur the marketplace.
There is also the promise of additional property tax relief for wounded veterans. Senate Joint Resolution 592 (SJR 592) will also be sent for voter approval in 2012. This will extend property tax benefits to any disabled combat veteran regardless of whether they lived in Florida before entering the military. The current law only provides such benefits to disabled veterans who were Florida residents at the time they entered into military service.
With Florida's next legislative session set to convene on January 10, 2012, it's an open question as to whether the 2012 session will take on a more activist stance.
Berger doesn't expect much in the way of major legislation affecting associations or homeowners. She sees redistricting—changes to legislative and congressional district boundaries to reflect population changes uncovered in the 2010 Census—to be one of the key items that will eat up much of the legislature's time.
Of course, there are quite a few months to go before the legislature convenes and that means lots of opportunities for a variety of stakeholders to try to impose their will in the form of proposed legislation.
These stakeholders, whose ranks include lobbyists, corporate interests, industry trade groups and grass roots citizens' organizations, are often the behind-the-scenes "who" in the game of politics.
In looking at the landscape of these special interest groups, Berger cites the Florida Banker's Association (FBA) has holding the most power today, with strong positions also being held by the telecommunications and insurance industries. "Real estate developers used to hold much more power," Berger added, "but their position has been considerably weakened by the economy and downturn in the housing industry.
Opposing some of these interests, but sometimes working together with them, are a host of organizations, such as Community Associations Institute (CAI), which represents the interests of an approximate 30,000 community associations, as well as the Institute of Real Estate Management (IREM), a professional real estate management association with nearly 18,000 individual members and over 535 corporate members. There's also Berger's Community Advocacy Network, a leading statewide advocacy network that promotes pro community association legislation.
One interest common to all of these groups is the economic recovery. And it's a safe bet that with the 2012 elections looming, all of these stakeholders will look to strengthen their hands and deliver as much of that recovery as possible for their respective constituents—the most important "who"—by the time the sun sets on the 2012 Florida legislative session.
Barry Rothman is a Florida-based freelance writer and a frequent contributor to The South Florida Cooperator.