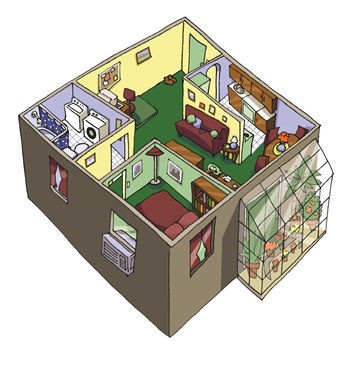 When you live in South Florida, you quickly understand the value of energy-efficient air conditioners; especially after you receive your first utility bill. But lowering those bills doesn't have to come from simply shutting off the air and being hot.
'Energy efficiency' has become a "buzz phrase" over the last decade and more and more devices and equipment have come on the market that are specifically designed to use less energy and save money.
"Energy efficiency is one of the few investments that can help homeowners gain a return on their electric bill and on the value of their home," says Suzanne Grant, lead communications specialist for Progress Energy Florida. "We suggest customers consider replacing or remodeling with energy-efficient products to help improve the resale value of the home and make it stand out in a crowded marketplace."
Individually, condo or co-op owners can avoid leaving lights on, turn off fans and air conditioners when not at home and use better lighting options. But Florida homeowner associations can do even more, and in the process, help the entire building.
"In the state of Florida, we have an energy rater program, so we have certified energy raters, and they will be qualified to do assessments. Someone can work with a rater and have them enter the building and put the information into the software and it can look at the heat gains and losses of a building so you can look at wall types, insulation and windows," says Jeff Sloane, senior research engineer for the Florida Solar Energy Center. "There is also a lot of interest in energy efficiency right now, so as a result, we have seen the growth of a number of voluntary programs like Energy Star."
HOAs should be looking into the newest generation of energy-saving appliances, heating, ventilation and air conditioning systems (HVAC) and solar technologies to improve energy efficiency for everyone.
Energy Consumption
The three largest electricity users in a home are heat/air conditioning (in Florida, most home heaters are electric), hot water and the refrigerator.
In addition to using an energy-efficient model, Grant recommends setting the temperature at 78 degrees during the AC season and 68 for the heating season.
"For every degree cooler than 78—or warmer than 68 during the heating season—a customer will see a 10 percent increase in the cost to heat or cool their home, which is likely more than a third of the total bill," Grant says. "High efficiency water heaters and refrigerators are also good investments. We recommend customers look for Energy Star models when they look to upgrade or replace their models."
New energy-efficient Energy-Star qualified refrigerators can use 75 percent less energy than an older model, and should be added to any new kitchen.
"Set your refrigerator temperature between 35 and 38°F for maximum efficiency and dust your fridge the next time you dust your house," Grant says. "Check the coils behind the refrigerator or under it and vacuum or dust the coils to help it run efficiently and keep costs down."
When it comes to energy efficiency, there are a lot of new things going on with new ideas and different technologies popping up every day.
"For our uses, specifically for our state, we are looking in general at what will reduce energy consumption and what will reduce heat transfer and that will vary on each item," Sloane says. "Some of the newer things that are out there are geothermal heat pumps, for sure, which is something that are used now. For an air conditioner system, it may include things like the heat exchanger, compressor efficiency and even the controls and how it's run to maximize efficiency of the system."
Another geothermal option is solar water heating systems that some of the larger manufacturers are now getting into.
"It's a smaller size and the system is integrated into the water heater and it can also provide some cooling," Sloane says. "This is something that I believe more condominiums will be changing over to in the near future."
Seeing the Light
According to Dr. Kathleen C. Ruppert, who works at the University of Florida Program for Resource Efficient Communities with the Florida Energy Systems Consortium in the area of outreach, lighting is an area that all homeowner associations should think about making changes.
"Let's compare an incandescent bulb and a CFL with the same light output. A 60-watt incandescent bulb produces about 800 lumens. You can replace this 60-watt incandescent bulb with a 15-watt CFL and get the same amount of lumens (light output), but the CFL will use 45 watts less energy," she says. "Compare brands for price, lumens per watt (LPW) and hours of life. Remember, the higher the LPW, the greater the efficiency and the more light you receive for the energy used."
Replacing bulbs around the building in all common areas, and making them available to the units themselves can do a lot for saving everyone energy.
Start at the Top
With the sun beating down hard on a condo or co-op building most months throughout the year, technological advances have come to make the roof more reflective to shortwave solar radiation.
That's why new construction of home developments are mostly using these materials.
"For the roof, they are now producing metal, tile and even shingle products with special coatings and properties to solar radiation," Sloane says. "Here in Florida, one of the name's of the game is to keep the sun off the space to begin with, so if I am reducing the solar gain at the roof level, it's cooler and everything below benefits as well."
Fan of Energy Savings
Energy Star qualified ceiling fans make a huge difference in how much you spend in cooling and heating, and it's not uncommon for all residents of a building to have several in their home.
In order to qualify for the Energy Star rating a fan must have a minimum airflow of 5,000 CFM and have an "efficiency rating" of 75 CFM/watt on high speed. This means a fan moving the minimum required amount of airflow (5,000 CFM) would draw 67 watts or less.
A new ceiling fan was developed about a decade ago that changed the flat panel design to a more optimal blade design that is in the shape of a twisted blade and it has an air foil cross section that is twice as efficient as other blades.
"That blade design is more than 40 percent more efficient at moving air than a typical ceiling fan," Sloane says. "Those are widely available now and that's a really good example of something that was used for a long time, but there was wasted energy. By making it more efficient, you are turning that wasted motion into effective air movement."
Incentive Programs
Making the changes will be beneficial for any condo or co-op building, but to make it even more attractive, there are numerous government and utility rebates available to encourage association communities in South Florida to adopt or install newer, more energy-efficient appliances and building systems.
"There are a lot of options out there. There's a green building incentive for Miami and Dade County, a Miami/Dade energy efficiency loan program and other rebate programs throughout South Florida," Sloane says. "You also want to check with Florida Power and Light because they often have programs as well."
For a list of programs available, visit www.dsireusa.org and click on the state of Florida.
Progress Energy offers a number of rebates for those participating in its programs.
For heat pump replacement, one can earn a rebate of up to $350 when they upgrade to a high-efficiency heat pump; for air duct testing and repair, if a duct test is recommended during a no-cost Home Energy Check, Progress Energy will pay the first $30 of the typically $60 test and the first $150 in repair costs; and for attic insulation and attic sealing Progress Energy offers a rebate of $75 or more to qualifying customers who upgrade their attic insulation to R-30 or greater.
"By participating in our comprehensive energy-efficiency program, Progress Energy Florida customers have saved more than $1 billion in energy costs," says Kimberly Berghoefer, manager of residential energy-efficiency programs for Progress Energy Florida. "Marketing the energy efficiency of homes is a winning proposition for homeowners, home buyers, and the environment."
Final Thoughts
By making energy-efficient changes, residents will start seeing the savings for most things almost within a month on their utility bills, especially if Energy Star appliances were added.
Larger products involving new HVAC technology, window insulation or roofing materials may take a little while to pay off, but in the long run will save everyone money and help the environment.
Keith Loria is a freelance writer and reporter and a frequent contributor to The South Florida Cooperator.