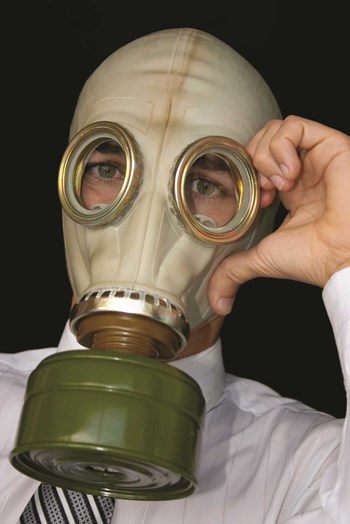 How often should a multifamily apartment building in South Florida have its garbage chutes cleaned?
That question depends on who lives in the building and how big it is, says Chet Ribner, president of Southern Chutes, Inc. in Hollywood.
"For a snowbird property that is occupied half the year, and then the majority of the population goes north, once a year is fine," he says. "For a condo with a lot of unsold units that are rented, and young people living in them year-round who are brutal, very dirty, those chutes need to be cleaned two or three times a year.
"Also, the taller a chute is, the more cleaning it needs. Very few bags will survive falling down a 50-story building. Normally you see more wear and tear and denting on the lower floors, where more garbage is going by and moving faster."
Jose Calderon, owner of Taurus Chutes in Davie complains that building residents contribute to the mess by shoving overfilled trash bags through chute doors, damaging the doors, ripping the bags, and releasing garbage and grease to coat the sheet-metal chute walls on the way down. "If somebody throws cigar and cigarette butts down the chute, that grease will catch fire," he warns.
"Sometimes people order pizza, fold the big pizza boxes, and throw them in. The boxes unfold, catch on the grease, clog the chute, and back up the garbage. Cutting those boxes into small pieces is better." Calderon has even seen chutes clogged with old TV sets and microwave ovens that should have been hauled to the garbage room.
"As garbage accumulates on the chute walls, it begins to rot and creates foul odors, and a breeding ground for microbial growth," says Steve Adkins, the national air duct manager of Stanley Steemer International, Inc. "Then people slide more trash in there and the microbes become an airborne irritant to the eyes and lungs."
Free Inspections
Trash-chute cleaning companies typically inspect a building's chutes for free. "Many customers have a set schedule for us to come out and inspect their systems, to prevent them from becoming overly impacted," Adkins says. "If you don't have somebody inspect on a regular basis, the system will get clogged and cost you more to clean than it would have six months ago."
Unless a condominium's board of directors has a longstanding relationship with a trash-chute cleaner, the normal procedure is to solicit bids from several companies, Adkins says.
Ribner says the inspection involves "checking every door on every floor to determine if any need minor repairs, or are not fixable. We use a flashlight to examine the interior of the chute from each floor. In the discharge room, we see whether the door over the bottom of the chute is functioning properly.
"Then we send a letter, with one proposal for chute cleaning, and another for any repairs I think need to be done. If the building has a chief engineer or manager, I'm happy to show him what I found."
Time and Costs
Chute-cleaning companies try to complete their work in a building in one day. If a building is too big for a single two- or three-person crew to finish in one day, a company may assign extra crews rather than bring one crew back for a second day. This minimizes the company's fixed per-project expenses, such as transportation and setting up the cleaning equipment.
"Cleaning can take less than two hours for a 10-story building, or all day for a 50-story building," Ribner says. "The equipment runs on a motor. It's metered and runs at a certain pace up and down the chute—but then we clean and service every single door."
On average, cleaning a trash chute costs $30 to $40 a floor, but several variables affect the price. Ribner says tall buildings pay somewhat less per floor because the cleaning company can spread its fixed expenses across more floors.
Calderon charges first-time customers more because their chutes usually are dirtier. Also, in counting floors, he includes the room where the garbage lands in a compactor that feeds into a dumpster. "I have to clean the discharge room, too, so a four-story building is really a five-story building," he emphasizes.
How They Do It
"There's no rocket science to chute-cleaning. It's basically elbow grease," Adkins says. "We wear face masks and Tyvek suits.
"Each floor has its own access point. At the bottom of the chute is a compactor. We clean and disconnect the compactor so everything we do drains into the floor drains that most buildings have, or we hook up a hose to our truck.
"We go to the top floor, open the chute, spray it with EPA-registered natural solutions that break down proteins and other food remnants and help get rid of odors, scrape the sides of the ductwork, and pressure-wash the inside with very hot water at 3,500 pounds per square inch. If the stuff inside is impacted, we let the solutions sit longer and do more scraping. We go floor to floor until we get to the bottom."
Calderon complains that many building residents don't cooperate with chute cleaners at work. "Before we start, we place notes on the doors not to use the chute, but they don't care," he says. "They rip off the notes and continue dropping garbage. After we've moved the compactor, we have to take the garbage out of the drain and shovel it into the compactor."
Chute Repairs
Installing a garbage chute in a new building costs about $1,000 per floor, Calderon says. A chute is made of 16-gauge galvanized steel, and could last 25 to 30 years with tender loving care, but most don't get such care.
Replacing a chute in an existing building entails removing walls and the old chute, and may cost two or three times as much. Costs to repair an existing chute fall in between, typically billed on a time-and-materials basis.
Several times a year, Ribner gets emergency calls from buildings with a blocked garbage chute. "Somebody throws in a bed frame, and it gets stuck on the 15th floor," he recounts. "Garbage piles up on top of it. The maintenance guy pours water in there to free up the garbage, and a 200-pound pile becomes 2,500 pounds of wet garbage."
Chute repairs or replacement require a general contractor with a mechanical license, and a plumber. "All trash chutes must have a fire sprinkler system inside, with a sprinkler head on every other floor," Ribner says. "When we repair or replace the chute in an older building, the sprinkler system may require updating. We have to bring in a licensed fire sprinkler contractor."
The general contractor obtains plans signed and sealed by a licensed engineer or architect, which costs $600 to $700, and applies for permits. "For a small building, the preliminary fixed costs are huge," Ribner says. "The work takes about a month, but we don't start the process until all the permits and materials are onsite. Everything has to be in our hands before we open a wall."
A fire-rated block chase with a drywall exterior surrounds the chute. The project entails removing this face wall from floor to ceiling, leaving a gap about 30 inches wide, and hauling away the debris. At this point, the plumber disconnects the old sprinkler pipe, drains the system, plugs where all the sprinkler heads were, and turns the system back on to maintain fire protection elsewhere in the building. Then the contractor removes the damaged chute and installs the new one.
During this process, each trade must summon building inspectors for a series of rough inspections, culminating in a final inspection. "Those inspections have to take place in a special order, one a day," Ribner says. "Best case, it will be two weeks. With a partial repair, we'll get the chute back open very quickly, and keep the floors being repaired boarded up so nobody gets hurt. Meanwhile, we provide garbage pails to each affected floor, or ask people to take their garbage downstairs."
What About Cleaning Your Air Ducts?
According to NADCA, the benefits of cleaning your air ducts are two-fold and can also save energy. Homeowners are rightly concerned about the air quality inside their homes. They may decide to investigate when they notice a problem. In a typical six-room home, up to 40 pounds of dust is created annually through everyday living. Your heating and cooling system is the lungs of your home. The system taken air in and breathes air out.
Through normal occupation in a home, we generate a great deal of contaminants and air pollutants, such as dander, dust, and chemicals. These contaminants are pulled into the HVAC system and re-circulated 5 to 7 times per day, on average. Over time, this re-circulation causes a build-up of contaminants in the duct work.
While dirty ducts don't necessarily mean unhealthy air in your home, school or workplace, they may be contributing to larger health issues or harboring contaminants that could cause serious problems for people with respiratory health conditions, autoimmune disorders or some environmental allergies.
Energy savings can also result. According to the U.S. Department of Energy, 25 to 40 percent of the energy used for heating or cooling a home is wasted. Contaminants in the heating and cooling system cause it to work harder and shorten the life of your system. Although filters are used, the heating and cooling system still gets dirty through normal use.
When an HVAC system is clean, it doesn't have to work as hard to maintain the temperature you desire. As a result, less energy is used, leading to improved cost-effectiveness.
George Leposky is a freelance writer and a frequent contributor to The South Florida Cooperator.