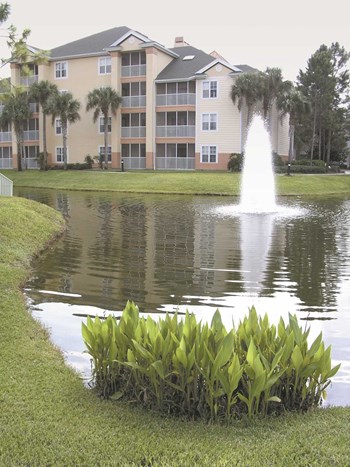 As the old saying goes, you never get a second chance to make a first impression, and for homebuyers, that first impression is almost always the view from the street. No matter how deluxe the accommodations inside, if the property's exterior is less than desirable, a buyer's mind is often made up before they enter the front door—if they even bother to go that far.
Especially in times of economic stress, housing associations and residents are compelled to maximize the curb appeal of their property in order to compete in a market that still has a long road to recovery ahead. While this need not cost thousands of dollars, it's a little more complex than just planting some geraniums and calling it a day. How your building or association presents itself to passers-by and the world at large—it's curb appeal—has a direct effect on resident morale, pride of ownership, and even property values. Let's take a look at how to spruce up your property without paying through the nose.
The Internet Drive-by
Buying a home is an emotional adventure, and many people follow their hearts, rather than their minds when making a decision. "The buyer needs to fall in love with the outside before they fall in love with the inside," says Sandra Holmes of Home Staging Concepts (and president of the South Florida chapter of the International Association of Home Staging Professionals/IAHSP). "The curb appeal is what is going to make them want to come inside—it's their first impression."
And since that first impression is so strong and valuable, it can really decide the success or failure of the sale before it even really begins, Holmes continues. "I've seen people pull up to properties with realtors and not even want to get out of the car."
In recent years, the pressure for a property to shine right out of the gate has been intensified by the prevalence of websites featuring photos and details of each listing, easily viewable on any home computer. "These days, the first drive-by is online," says Holmes.
Kathy Streib, a home stager in Delray Beach agrees. "People begin their search on the Internet," she says, "and if the property doesn't have curb appeal, more than likely prospective buyers will not even make an appointment to see it."
"If it's not inviting from the outside then no one wants to go in," adds David Bowles of Elite Home Staging in Miami. "You are already putting a bad taste in buyer's mouths without them even getting to see the living space."
Common Sense Tips
Amid the myriad of things to consider when putting your condo or townhome up for sale, there are a few that are particularly important. Many of them are common sense issues that people nevertheless often overlook when preparing their property to be shown.
"You have to have to look at your home from the outside with a fresh eye," says Holmes. "For example, if you can't see your property, you can't sell it. The grass needs to be cut, the lawn should be free of weeds, there should be fresh flowers, the lawn should be green, and the edges need to be trimmed and mulched."
The exterior facade is another biggie. "The trim should be freshly painted, the roof pressure washed, and the door should be freshly painted with new handles or knobs," continues Holmes. "The windows and gutters also need to be cleaned. The trees should be trimmed up so that you can see the building, and the shrubs need to be trimmed below the windows so you can see in, and the light can get in."
"Make sure that the entryway is maintained," adds Streib, "that the hardware and light fixtures are maintained and up-to-date, the lights work, the door is clean, and the mailbox is new and not weathered." Each region has its challenges, she says. "Here in South Florida the trees can get really out of control. We have to keep on top of it."
Rules and Regulations
In some communities—particularly the more affluent and sometimes gated ones—the guidelines and regulations for upkeep can be rigorous. Before making any changes to the exterior of a condo or townhouse, says Bowles, "All sellers need to make sure that the changes they plan to make are in in line with their association's bylaws and rules."
Depending on the community or HOA, the choices can be severely limited: "In some associations or gated communities, the association can tell you what paint colors you can choose from," says Holmes. "Some have mandatory rules on how many trees can be in the front and back yard areas."
In many condominiums and other multi-family associations, the HOA itself will take care of the exterior maintenance for the entire site. Residents' monthly dues are partly spent on upkeep, and when it comes time to sell, many of these points will need to be addressed by the board or landscape committee.
In many instances, there are other opportunities for insertions of individual expression. "I was just in a high-rise where each unit had an elevator opening directly onto the [front] door," says Streib. "In this circumstance, the homeowner can personalize the space right in front of the door. A painting, a fresh doormat, or even a mirror can really make a difference. "
Low-Cost, High-Impact Solutions
Enhancing curb appeal doesn't have to be an expensive task, or involve planting trees or moving hedges. There are several things that associations can do to help boost that first impression and encourage sales—many of which can have the added bonus of improving the property for the residents who are staying.
"Fresh paint is a good low-cost, high-impact solution," says Holmes, "and cleaning up the yard will make a big impact. That costs very little. Fresh mulch will also do the trick. Some landscape solutions come down to a simple adage: Trimming up and trimming down."
"Lighting always helps," says Streib. "It's an inexpensive update that you can do to greatly enhance curb appeal. Take care of the light fixtures outside your door."
Bowles agrees: "Lighting fixtures and house numbers are the easiest and largest items to change out and make a big impact on the first impression of buyers. People often overlook house numbers."
If the association has done a great job of maintaining the exteriors, it may help sway buyers towards an individual unit that may not be as well-kept.
It's All About Perspective
There's no accounting for taste, and unfortunately, nowhere is this adage truer than when viewing a home. Part of a stager's main objective is to help the seller understand that the property needs to become a commodity more than an heirloom—that is, the perspective needs to shift from seller to buyer.
"They have to understand that it is no longer their home, and they have to skew it toward the buyer's perspective," says Holmes. "It becomes less a home and more a product when you are putting it up for sale. Sometimes the owners' beloved landscaping or trees can be poorly positioned on the property, or can be so overgrown that it doesn't let light into the unit."
Inside the home, personal articles are hidden in favor of more general suggestions that imply a room's use. For example, if you have a penchant for shocking-pink window treatments, or a huge collection of Surrealist artworks displayed throughout your townhouse, you might want to pack them away until you are in your new place.
Curb appeal can be a lot like preparing for company, says Streib. "Just keep everything spic-and-span as if your great aunt was coming over, and get rid of the spider webs and everything else that grows so fast here."
Considering the Times
These are trying economic times, there's no doubt about it. The lingering recession that was heralded by the housing market crash is still largely with us, and some noteworthy effects have emerged. One fringe benefit that some home stagers and real estate professionals have noticed is that communities have started coming together in new ways.
"Curb appeal affects everyone's property values, and so it benefits everyone to have good curb appeal," says Streib. "When homes are not selling, the average price reduction is about eight to 10 percent of the list price. This translates into a lot of money when you are dealing with $100,000-dollar residences, and even spending several thousand dollars [on staging] becomes a good investment by comparison. Coming off of a price by $20,000 is much more costly than investing in curb appeal."
The short sale and foreclosures environment has seen some homeowners taking the initiative to keep the neighborhood looking tidy—knowing that even one unkempt yard can adversely affect property values.
And some associations are taking proactive steps to make sure that their neighborhoods and developments suffer as little as possible from the surge of abandoned homes and distressed properties that may be in their midst. One such South Florida community sought the help of professionals, says Streib. "They brought in a realtor to talk about what was going on with sales in their area, and then they brought me in to explain how to amp up curb appeal. Realtors and stagers will happily come in and talk to associations about how to keep their property values up and maintain their residences."
Use Available Resources
Home stagers and real estate agents can be very valuable when trying to optimize both the interior and exterior of residences that are on the market but there are places to turn to find good ideas and do-it-yourself help with improving curb appeal in your community.
"Active Rain is the largest real estate platform for home stagers, realtors, and inspectors from all over the U.S. and Canada," advises Streib. "You can use their search engine for curb appeal, and there are also a few good blogs that talk about curb appeal and how communities have to come together to make sure that things are maintained."
Learning about curb appeal can even be as simple as watching television, says Bowles. "Any HGTV show will help, it seems: Designed to Sell, Curb Appeal, Sell This House…." the list goes on, and the options for improving your own condo's appeal in a tough market are vast. With some elbow grease and maybe some professional advice, you can make that first impression a success.
Denton Tarver is a professional landscape architect and freelance writer living in New York City and a regular contributor to The South Florida Cooperator.