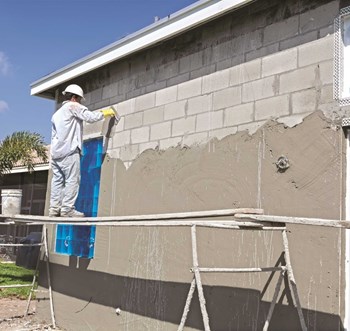 Southern Florida's homeowner associations may not have to deal with much in the way of snow and ice when it comes to protecting and repairing their concrete and stucco surfaces, but they certainly aren't off the hook just because blizzards don't often happen in the Sunbelt.
Tough as they may look, concrete and stucco exteriors need regular care and maintenance. Failing to maintain and repair them can result in unsightly conditions, reduced value, and costly repairs down the road.
Concrete Facts
Concrete and stucco have been used as building materials for hundreds of years, says Mike Rhodes, owner of Homestead Paving in Miami. Conventional or non-structural concrete is used for sidewalks, curbs, and pavements. Anything that is vertical, or spans across columns, is structural concrete, and is composed of different base materials suited for the particular job being done.
By contrast, stucco is a surface treatment that is applied wet to a building's exterior (often over an underlying concrete structure) and hardens to a very dense solid. It is used as decorative coating for walls and ceilings and as a sculptural and artistic material in architecture.
According to Colin Meneely, president of the Southeast Florida chapter of the International Concrete Repair Institute (ICRI) in Pompano Beach, there are a multitude of additives and coatings available to help both materials remain sound and stand up to the elements, including specialized anti-corrosion coatings for reinforcement bars and corrosion inhibitors that can be added directly to the concrete mixture at the plant. "There are also thousands of coatings that can be applied to the concrete after it has been placed to enhance the performance, appearance, and life span," he says. "A design professional should always be consulted to determine the proper product for the application."