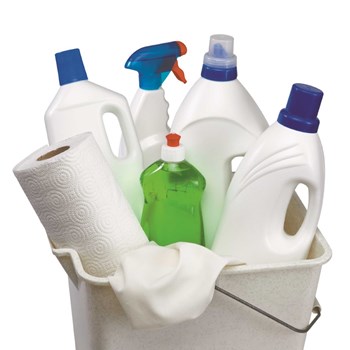 During a live National Public Radio interview, much to the consternation of the announcer and engineer, Gil Oren spray-painted a window between the recording studio and the control room.
Oren is chief operating officer of Miami-based Eco Concepts, Inc., which makes and sells Green Concepts cleaning products. He defaced the window to demonstrate his company's Green Concepts #10 Graffiti Remover, and to put the lie to the popular misconception that green products aren't as effective as old-school solvents and caustic chemicals when it comes to really tough tasks—like removing spray paint from window glass, for example.
Bleach and Ammonia
Removing graffiti is just one of the many cleaning chores confronting maintenance personnel in residential communities and developments. Traditionally, the products they use to get the job done have been harsh industrial chemicals that could damage the surfaces to which they were applied, harm users and other people nearby, and even cause widespread environmental damage.
The groundswell of public and commercial interest in preserving the environment and consumers' health has resulted in an influx of new, more earth- and user-friendly products that claim the effectiveness of their old-school counterparts without the risks.
"A variety of products would get rid of the enamel paint, but they would not leave a shiny window," Oren says of his NPR stunt. "Our Graffiti Remover does—and a four-year-old could wipe it off without needing a HAZMAT suit."
Oren says a typical graffiti removal product employs a hazardous surfactant (a wetting agent, in other words) such as nonylphenol ethoxylates, or NPE. NPE breaks down into a chemical with estrogenic effects known to cause feminization in fish and other wildlife when introduced into their ecosystems, and which could have similarly alarming effects on the human reproductive system.
Many graffiti removers and commercial cleaning products also contain powerful chlorinated and aromatic solvents, which are hazardous volatile organic compounds (VOCs) that have been linked to respiratory ailments, cancer, and a long list of other adverse health effects.
Chlorine bleach and ammonia are the two most environmentally harmful chemicals in widespread use, says Mat Mason of Green and Clean Property Services, Inc. in Fort Myers. "Both are disinfectants," he says, "and both emit harmful VOCs that can be trapped inside well-insulated buildings, becoming a health threat to the occupants."
"Chlorine bleach is used for mold on buildings, and on staircases and stones around buildings," says Diana Evans, director of the Seacrest Services, Inc., Century Village Division in West Palm Beach. The community has 7,984 units in 309 associations, 272 of which Seacrest manages.
"Bleach eats the mold right away," she says, "but if it's not hosed properly, it drips on the ground, kills plants, and gets into the waterways. If it's used on walls and railings, it can damage the clothing of people passing by. It works great but shouldn't be used a lot."
Grounds and maintenance staff in many HOAs still use bleach, ammonia, and other hazardous cleaning agents, even though green alternatives are widely available. Their reasons include a "we've always done it this way" attitude, lack of awareness of the "brown" products' ill effects, and questions about the cost and effectiveness of green products.
Seek Information, Rely on Certifications
Although ignorance may be bliss, anyone concerned with health and environmental issues should find out whether the chemicals in their building or residential community's cleaning products pose a hazard to staff members and residents' health and/or the environment.
The product label may or may not list the ingredients, but each product also comes with a Material Safety Data Sheet (MSDS). The U.S. Occupational Safety and Health Administration (OSHA) requires employers to make the MSDSs for cleaning agents and other potentially hazardous products their employees use available for inspection, so your community's maintenance department or management company should have all relevant MSDSs on file. If not, you can request them from the distributors or manufacturers. Some manufacturers post their MSDSs on company websites. There is also an MSDS-Search National Repository, but the pros say it's unwieldy and not always current.
To bypass such tedium, select products with certifications granted by independent organizations whose experts have done the research for you. Oren advises community boards of directors and managers to choose from among cleaning products that display at least one of these logos:
• Green Seal Green Certified Products/Services, a non-profit organization based in Washington, D.C. Since its inception in 1989, Green Seal has developed over 40 standards and certified more than 3,300 products and services. In 2008, the American National Standards Institute (ANSI) recognized Green Seal as an accredited standards developer, giving its certifications added prestige.
• Canada's Environmental Choice certification from EcoLogo, founded in 1988 by the Canadian government as the EcoLogo Green Products Database. With offices in Ottawa, Ontario, and Philadelphia, Pennsylvania, EcoLogo has set standards and certified over 7,000 products in more than 120 categories from hundreds of manufacturers.
• Cradle to Cradle Certification from MBDC, a product-design and process-assessment firm in Charlottesville, Virginia. MBDC awards a multi-attribute certification that goes beyond point-of-use health and safety concerns to consider a product's manufacturing characteristics and the extent to which it can be recycled or composted.
• Design for the Environment, a U.S. Environmental Protection Agency partnership program. The EPA evaluates products' ingredients, and allows manufacturers to put the DfE logo on those that meet the agency's human and environmental health criteria.
Oren also advises residential communities to develop an overall strategy for the use of cleaning products to minimize health and environmental impacts. "The U.S. Green Building Council has standards for operating and maintaining a green building. They have many levels of certification through the Leadership in Energy and Environmental Design (LEED) program," he says.
LEED's certification system for the operation and maintenance of existing buildings "identifies and rewards current best practices and provides an outline for buildings to use less energy, water and natural resources; improve the indoor environment; and uncover operating inefficiencies," says a USGBC fact sheet. "The goal of the rating system is to institutionalize a process of reporting, inspection and review over the life span of a building." Even if your community isn't interested in pursuing certification, LEED's recommendations could prove useful.
Tranquil Transition
Century Village embraced "green" cleaning products about six years ago. Evans says the transition was tranquil. Today, most of her 54 staff members know no other way. "They are trained to know what an MSDS book is, what products they're using, and what personal protection equipment to use with those chemicals," she says. "Then the supervisors work with them before they go out on their own."
Evans advises limiting the number of cleaning products to avoid confusion and to discourage employees from inadvertently creating something more potent by mixing chemicals. Individually, in proper proportions, the products are "benign," she says. Some are applied at full strength; others are diluted in mop water. Staff training emphasizes the importance of following manufacturers' recommendations. "If you use too much, you create a slime that doesn't work as well," she says.
According to Oren, the new generation of greener cleaners contain non-hazardous surfactants and no volatile solvents.
Which is a good thing, of course—except when it comes to smell, it turns out. One problem in the conversion from traditional to "green" chemicals is the widespread expectation that a cleaning product should have a strong chemical odor, and that if you can't smell it, it's not working. The pros are quick to point out that fragrance is irrelevant to a product's cleaning power, and many fragrance additives to commercial cleaners cause allergic reactions. "Some customers enjoy the 'clean' smell they receive from products with a fragrance, although the fragrance may actually be harmful to the body," Mason says.
"When you're formulating, there's no reason to put a fragrance in," adds Oren. "With a product effective in limiting the growth of mold and mildew in a sanitary room, you don't need a fragrance."
Mason says staff trainers also should teach the concept of "dwell time," the length of time a cleaning product remains on the surface being cleaned. This is important for chemicals, such as accelerated hydrogen peroxide, that encapsulate instead of killing bacteria. "Some bacteria are developing immunities to disinfectants in traditional cleaners, so the only way to remove them is to encapsulate and dispose," Mason says.
Choosing Cost-Effectively
Oren says Eco Concepts has about 20 formulas for various kinds of cleaning agents. Due to different concentrations and packaging sizes, the company sells some 130 individual products.
"Effective green products do exist," he says. "Effective cleaning should take into account the surface, soil, application, and the surrounding environment. To test effectiveness, don't tell me, show me. Every surface is different, every soil is different, every environment is different. Scrub a couple of floors and see what happens in a controlled test, with the same application and equipment. Encourage sales people to participate in these demonstrations."
After you've identified several "green" products that will clean to your satisfaction, Oren suggests considering these key factors to calculate costs:
• Unit cost (per ounce, gallon, etc.).
• Acquisition cost—the cost of a container of finished product on a shelf or delivered by a distributor.
• Diluted or "in use" cost, if applicable.
• Shipping and storage costs, which will vary with the product's level of concentration.
• Preparation costs (labor time and delivery systems) to dilute the product.
In some cases, these calculations may show that a more expensive concentrated product costs less to use when the other factors are taken into account.
All things being equal, Oren says, "the productivity and cost of a particular cleaning agent should be measured against the overall impact, not merely the removal of a particular undesired soil. We provide use instructions and simple dilution devices to make cleaning safer for the surfaces and materials being cleaned, the people doing the cleaning, the land and water table underneath the facility being cleaned, and the overall environment."
George Leposky is a freelance writer and editor living in Miami, Florida.