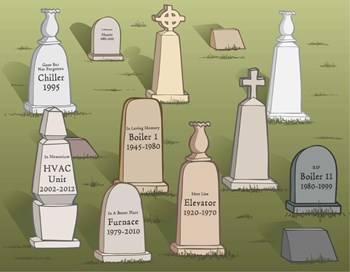 Nothing lasts forever, and though you can't predict the moment a piece of building equipment will break down, you can prepare for it. Even the toughest boiler, HVAC unit, or elevator will eventually tucker out and need major repairs, or just give up the ghost and have to be replaced. And in Florida's sometimes wicked weather, parts of a building sometimes must be replaced more frequently than might usually be expected elsewhere in the nation.
That's why working estimates of usable life spans of various building systems can be very helpful to management when planning short- and long-term budgets and capital improvement projects. For some communities, these estimates are a part of a regular evaluation of the facilities. Whether or not this evaluation is a part of your community's management process, knowing about the life spans and maintenance needs of your building's systems should be a part of your understanding of your community. Having such knowledge can help you prepare for the worst and in doing so, also help you save her money.
Finite Lives
The longevity of any building system depends upon factors including the type of system—be it the roof or the windows or the elevators or another system—how often it is used, how old it is, how well it's been cared for, and even the effect of weather. It's axiomatic that the best-run buildings will have every pump on every system labeled, and a record kept of each servicing and replacement of every part on each piece of equipment or building system.
Generally speaking, hot water heaters in multi-family buildings will last for just a decade or so. The life spans of HVAC components vary depending upon the type of system, but usually they will last for 15 to 30 years. Trash compactors get some of the worst resident abuse, being used for things they shouldn't be, and often last for only eight to 10 years. Major plumbing components can last 50 to 60 years, but when they are close to the end of their life, management should plan for the fact that the equipment will need to be replaced.
Elevators typically last for 30 to 40 years, with proper maintenance, but sometimes new technology speeds change. "It can come to a point where repairs are so excessive that it makes sense to replace it," says Shaun MacKenzie, co-owner of MacKenzie Engineering & Planning, Inc., in Port St. Lucie.
Elevator service contractors usually check the system monthly, noting the system's condition and recent maintenance in a log in the machine room. The contractor will do a visual inspection of the system, and then oil and grease the system if it is needed. If necessary, an elevator contractor (which maintains and sells these systems), can be hired to evaluate the system and put together specifications for improvements to the system ordered by the board, then help in the hiring process.
Replace Old Wiring
The overall electrical system of the building usually doesn't need to be replaced. Often, old wiring is still fine (up to 50 years old or so) and only breaker boxes and other parts of the system need to be replaced, and those only on a case-by-case basis. Some building boards of directors include a line item for electrical system repairs in their capital reserve budget.
When repairs to a trash compactor exceed half the cost to replace the unit, replacement is probably the best option, industry experts say. Unfortunately that rule isn't applicable to other building systems. HVAC systems, for example, have many different components including cooling towers, water chillers, air handlers and heat exchangers.
A sometimes overlooked building "system" is the so-called building envelope. Probably the biggest maintenance expenditure of condo buildings in South Florida is painting. It may seem like a simple task to paint the exterior of a building, but there is more technical knowledge and craftsmanship than meets the eye. Preparing the surface improperly, using the wrong type of paint or even inferior quality paint could seriously shorten the life of the paint job. It also could diminish how well the building's façade holds up to the elements; in South Florida, which means heavy sunshine and heat, and hurricane-force wind and rain.
Most buildings need to be repainted every seven to 10 years. But with a good contractor doing the job with high quality paint, the work could last 10 to 12 years, MacKenzie says.
Cheap paint tends to cost around 80 cents per square foot, while expensive paint can cost around $1.40 per square foot. Experts recommend using top-notch contractors as well as good products. A community's board of directors and management should properly vet painting contractors, to ensure that they hire only the most qualified companies.
Another aspect of the building envelope managers should be mindful of is the roofing. Because of the high winds, rain and heat in this region, roofing materials take a hard beating here. Experts recommend that roofs of co-ops and condos be checked at least annually for any defects, holes, leaks or any other problems. All problems should be immediately fixed, before they become major problems.
And while they may not seem like a building system per se, balconies on co-op and condo buildings in this area take nearly as hard a whipping as do the roofs. Concrete balconies, like plaster or concrete on the exterior of residential buildings, deteriorate over time and begin to spall. That's why they should be checked every 3 to 5 years, and be patched and repainted at least as frequently as the rest of the exterior of the building is painted, and preferably painted on the same schedule, says Stan Swaysland, the founder and president of Swaysland Professional Engineering Consultants in Fort Lauderdale.
Typically when Swaysland's company is called in to help a residential building, management already knows there could be a maintenance problem. An engineer from Swaysland's company assesses the building and its condition, through a visual inspection and acoustic inspection and sometimes even using ground penetrating radar.
"Down here, 30- to 40-year-old buildings typically have a concrete problem. The exterior of the building is spalling as a result of the harsh weather conditions," Swaysland says.
Remy Baker, a project coordinator for Jupiter-based Commercial Energy Specialists (CES), says maintaining and preparing to replace a pool's system is important for South Florida residential communities. While vendor maintenance on the pool could be as infrequent as once or twice a year, a pool's system should last around 10 years or so (depending upon preventative maintenance). Those systems include the controllers, heaters, pumps and chlorinators.
Ignoring a pool system will wear it down quickly. Not cleaning the pool regularly and having too much chlorine in the water will damage the pool; daily management techniques should be known by building staff, who can be taught them by vendors if needed. And while it might seem like not much harm could be done from improper care for a pool, consider that a complete system overhaul for a pool could cost a bundle. On the low end, it might cost a building as little as $5,000, or as much as $100,000, depending upon the pool's size, Baker says.
Proper maintenance is the most important of all the factors that can extend the life span of any building system. Other factors such as foot traffic may not be able to be controlled, nor of course, can the weather. So make sure your building staff takes care of what it can.
Scheduling Upgrades
A building's administrators should collaborate with their service pros to determine whether it's better to repair a failing system or replace it. Saving money for residents is part of the job of any association board, and that's where capital reserve studies come in. As part of reserve studies, major systems in the building are evaluated to determine how much usable life they have. This is done through a visual inspection of the building, by professionals referring to manufacturer's specifications on the system, and through evaluating information on problems and previous repairs.
Also for a reserve study, maintenance professionals who service the building will be consulted to evaluate the longevity of the system and to help give recommendations, says MacKenzie. Building personnel should be consulted on the various systems and asked how the machinery has been operating.
"We come in and do a very broad inch-deep look at things. It can lead to bringing in specialists to figure out a problem and come up with a solution," MacKenzie says.
Much of the analysis done in a capital reserve study is based on published industry standards for individual building systems. "We go out and look at the components and the corrosion on them. We speak with vendors in evaluating the system, and then we give recommendations," MacKenzie says.
The frequency with which a building conducts reserve studies varies from community to community and is partly dependent upon the size and type of community. These studies are usually done by an engineering firm or another firm which specializes in such work. Experts recommend doing a capital reserve study of a co-op community every five to 10 years and doing a reserve study every five years for a condo community.
Building boards should try to regularly set funds aside for future work on the building's plumbing system, which has a 50-plus year lifespan. Many buildings have a plumbing repair fund, which residents contribute to as a funding source for when repairs are needed. Electrical systems also can benefit from planning. Managers of some buildings set aside money for replacement of transformers and switch gear systems, machinery which lasts about 25 years.
The management of some buildings will prepare for regular work on elevators, such as refurbishing the interior of the cabs. But elevator system upkeep can be costly, and so property mangers and board members should properly vet those whom they are considering hiring to maintain and upgrade the systems.
Often elevator maintenance is separated into two line items in the capital reserve budget: interior cab renovations, which are done every 12 to 15 years; and modernizing the system, which is done every 25 to 30 years. Updating the entire system is very expensive, because all of the controls are upgraded for technology and safety.
Because of advances in technology, elevator control systems have life spans of only 20 to 25 years. The motor and cabs of an elevator system can be antiquated, but all of the controls are computerized these days and thus, must be regularly updated.
Thanks to Moore's Law and the speed of change in the computer era, some electrical systems, such as security systems and entry systems, may need to be replaced more frequently than other building systems. And some residents want greater security or more convenience, so changes to the system are made to make things easier, such as by upgrading to a keyless entry. And due to technology constantly morphing, a building's computer network might have a life span of only 15 or 20 years.
Jonathan Barnes is a freelance writer and regular contributor to The South Florida Cooperator.