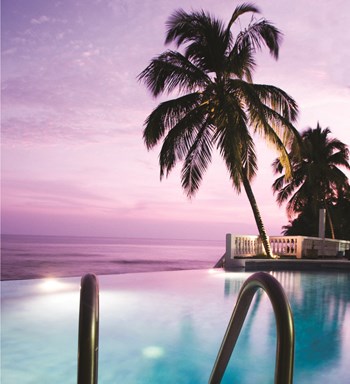 Perhaps nowhere else in the United States is life offered up on as grand a scale as it is in Miami's ultra-luxury condominium market. Apartments often include personal plunge pools on unit balconies, private elevators for residents and their cars, leading in complete privacy to a garage set discreetly inside the condo unit and private humidors for your vintage cigar collection. Buildings offer ice-skating rinks in the land of eternal summer, FlowRider wave pools for surfing, private beaches, in-building restaurants and private clubs where you can hold recitals. If it weren't for the eternal sunshine and the palm trees you might think you were in a scene out of the beginning of Doctor Zhivago or The Great Gatsby.
It's Not Your Father's Condo
Here's a look at some of the more outrageous offerings. Porsche Design Tower located at Sunny Isles Beach under development by Gil Dezer, president of Dezer Development, includes an indoor golf simulator and an interconnected virtual racecar simulator.
Paramount Miami Worldcenter in Miami offers the ultimate in private elevators, a private ride to a 'lock-out studio' that can be used as a guest room or when your mother-in-law comes to visit. Oh and by the way, there's a mall in the building for when your mother-in-law isn't sleeping.
"Perhaps the most spectacular," according to Christopher Zoller, incoming 2017 chairman of the board-elect for the MIAMI Association of Realtors and a broker with EWM Realty International, "is the infinity pool at Turnberry Ocean Club, located in Sunny Isles Beach. "Because our shore faces east, by 12:00 or 1:00 the sun is heading behind the beach and the bathers. The infinity pool, located on the 30th floor provides an oasis with an all-day view of the ocean and 360 degree sunshine," so integral to the optics of Miami.
"Miami's appeal as a top destination city for the jet-set crowd is amplifying as the world's wealthiest invest their money and time here. As a result, the city's luxury real estate landscape has escalated to ultra-luxury levels," says Hector Vargas, president, South Florida High-Rise for FirstService Residential. "For residents, these amenities mean having it all right at their fingertips—whether it's available within their own property, or minutes away by walk or ready transportation. These are properties that have in-house spas and salons, health and fitness specialists, grocery delivery and on-site chefs, pool-side cabana service and more. It's almost an insular lifestyle that feels more like a retreat or a boutique resort where first-class service management and amenity planning is really a marriage of the residential and hospitality sectors."
Personal En-Suite Kitchens
Another major new amenity is the 'summer kitchen,' which is a standard at Apogee, 800 South Pointe Drive, Miami Beach and the Park Grove, 2701 South Bayshore Drive in Coconut Grove. While many buildings in the Miami ultra-luxury market offer outdoor kitchens on a community basis, Park Grove and Apogee provide them on every apartment's terrace.
What can we expect to see in the future? "Amenities that increase service," said Zoller, "Smart homes, where everything is made quicker, simpler and more convenient. Residents want everything instantly." Concierge type services in both attended and technological forms can be expected to dominate the amenities wars going forward.
"In a way, Miami's catering to ultra-luxury is an extension of the seven-star, opulent lifestyle to which this elite clique is accustomed," suggested Vargas. "Amenities and lifestyle services offering anything less than the indulgences of the finest resorts and world-class travel experiences are simply unacceptable. These ultra-luxe services can include everything from private in-house restaurants, floor butler service, automated penthouse garage elevators, private helicopter pads and jet transports, just to name a few."
Lower-End Luxury
Unlike anywhere else in the world the Miami condo market also features a submarket known as 'Lower-End Luxury.' This generally means less space, less amenities and a less desirable view and or location. Yet sales prices in that market segment continue to increase. The ever increasing supply of new ultra-luxury condos, an estimated 18,000 are in the pipeline through 2017, has pressured developers to think at lower price points. Per square foot prices for much of the Miami market exceeds $1,000, the price point for these projects ranges between $400 and $750 per square foot. While you might not get an infinity pool and an outdoor kitchen on your terrace you still get state of the art fitness facilities, pools and luxurious interior finishes. But you might have to park your car in a common garage!
"The amenities trend has spread northward to Broward and Palm Beach counties," says Zoller, "particularly around Fort Lauderdale." That trend he suggested can be expected to continue and spread as there is less and less land available for future development.
New Life for Retirement Communities
Perhaps a more notable trend though in both Broward and Palm Beach counties is the turnover of 55+ and other planned communities from the WWII generation to their children, the Baby Boomers. With these demographic changes, communities are seeing not only new life but a retrofitting of their amenity packages. In an article published in March 2013 The New York Times noted that this trend was gaining speed. Baby Boomers in their late 50's and early 60's were transitioning to retirement life much as their parents' generation did before them and that the prices at which they are able to buy-in make the communities where their parents lived look suddenly attractive.
While Florida real estate continues to follow the extreme, roller-coaster, boom or bust cycle for which it's famous, the spectacularly affordable prices in communities like Century Village in Boca Raton and Kings Point in Delray Beach make a compelling argument for Baby Boomer buyers to take a hard second look at these communities. Though well priced, these units often require extensive renovation. Post renovation, the total cost is still very appealing particularly when compared against new construction. Additionally, as the population of these communities continues to become "younger" the social and activity planning within the community changes and the standard amenity packages including pools, clubhouses and other supporting facilities are maintained and upgraded.
An interesting case in point occurred at Hunters Run in Boynton Beach. Hunters Run is not a 55 + community by design, but rather a country club residential membership community that is also a NORC (naturally occurring retirement community). The country club, which all residents are required to join, includes three championship golf courses, 21 tennis courts and a clubhouse with a restaurant. Built some 30 years ago, much of its population has or is approaching that point where they may require other housing options or are no longer able to partake of the benefits of club membership. Units are available to purchase. Melissa Rifkin, in her 50's, purchased a two bedroom, two bath unit for $6,500 several years ago. "I was attracted to the community," she said, "because my mother lived here at the time and my husband enjoys golf. We thought it was a great opportunity for our retirement planning."
Though the price for the unit was quite low they had to invest additional funds in renovating the unit and in the country club membership, which is required of all residents. "Nevertheless," she said, "it was a very good deal." She reported that the community had a special offer to buyers under 62 with reduced membership fees for the country club as an incentive to bring in younger people. "The facilities are kept in excellent condition," she continued. "They are upgraded approximately every two years."
On Florida's Left Coast
On the Gulf Coast, the hottest market right now is in St. Petersburg. Realtor Kathryn Krayer Zimring reports the two hottest buildings going up in downtown St. Pete are The ONE and Bliss. Bliss, which is sold out, will open at the end of 2016. The ONE is not scheduled to open until fall 2018. Building amenity packages are generally standard," explains Zimring, "concierge, pool, fitness center and party room. The real amenity package is St. Petersburg itself which offers walkable access in its downtown to arts, parks, museums and restaurants. We're seeing a lot of people moving here from Tampa itself, both homeowners and condo owners," she said.
"Prices have risen and inventory is low," she explains, "mostly as a result of a lack of developable land and the continued activity in the apartment rental market," which has seen substantial growth. To purchase a two bedroom, two bath unit with a view can run upwards of $1,000,000, whereas a similar two bedroom, two bath rental rents for approximately $2,500/month.
Overall, the various segments of the Florida condo markets examined here are in a healthy and vigorous state. "The market will stay strong," according to Zoller, "as there is continued demand primarily because of the expensive rental market." It pays to buy. And clearly, luxury is the thing.
"We have one of the largest portfolios of luxury high-rises under management," adds Vargas of FirstService Residential, "and a key reason is that we've cultivated specialized teams of lifestyle management experts to create the unique environments and provide the personalized services that distinguish luxury properties in each market. Our luxury manager specialists are constantly monitoring the living enhancements and expectations that are trending locally and around the world to give the residents what they want, before they may even want it."
A.J. Sidransky is a novelist and a staff writer for The South Florida Cooperator and other publications.