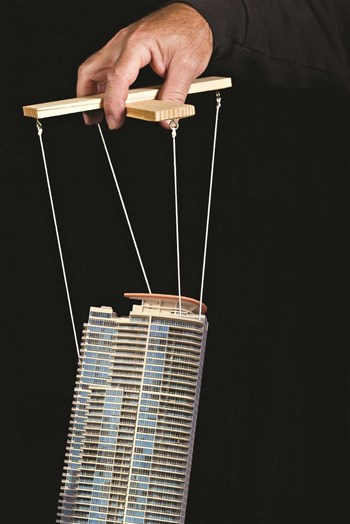 The goal of any property developer is to sell units, but until that objective is reached, the developer assumes all the day-to-day responsibilities to ensure smooth operations and continued sales. This requires wearing many hats—manager, board member and ombudsman. As a result, it is often a relief when control of the property is handed over to actual members of the association. Having said that, the transfer isn't always the smoothest of processes.
Florida's Condominium Act provides guidance and oversight for these transitions. Peter Sachs, an attorney and partner with the Boca Raton law firm of Sachs, Sax and Caplan says special attention should be paid to Part II and Part III of the act, which explains "Rights and Obligations of Developers" and "Rights and Obligations of the Association," respectively. Contained in these provisions are sections governing turnover of buildings, including regulations that specify the time-frame for turnover based on different triggering events.
For example, Sachs explains that a transition can occur three years after 50 percent of the units that will ultimately be governed by the association have been conveyed to purchasers, or three months after 90 percent of units have been conveyed. In doing so, developers must provide a statutory warranty of fitness and merchantability, provide guidelines for treating contracts entered into by the developer on behalf of the association and specify the procedure for functionally turning over control to the unit owners. "Of course, there are also a myriad of judicial decisions interpreting these laws," notes Sachs.
A Managed Transition
"Developers should encourage owner involvement in the developer-controlled association to facilitate a smooth transition to owner control," says Attorney Howard Perl, a partner with the Margate, Florida-based law firm of Katzman Garfinkel & Berger. "This exposes the owners who will hopefully comprise the new board to the day-to-day operation of the association. Developers must also insure that they have properly funded reserves, that the maintenance guarantee (if any) is secured for all contractor warranties that may be in effect."
While it's commonplace for developers to hire management companies to oversee the building or property prior to transition, there are often related issues that can impact the unit owners and board members once the baton is passed.
"Typically, developers employ a management company to manage the daily affairs of the association. This benefits the association because it provides continuity from developer to unit owner control," says Attorney Michael Chapnick, a managing partner with Chapnick Community Association Law, P.A. in Delray Beach. "However, if the association and the developer have difficulties, those are frequently imputed to the management company and the management company may lose the account after transition."
Sachs adds that when condominiums were first established it was extremely common for a building developer to also manage the property, sometimes entering into very long-term contracts with itself up to as many as 99 years. This locked future unit owners into using their services. However, the rise of management companies has made such relationships relatively rare.
"Today, it is far more common that the developer of a residential condominium hires a professional management company to manage the building, and that management company generally carries over after turnover; at least for a period of time," says Sachs. "Some developers will still contract to manage their own property, but Florida law allows unit owners, after turnover, to vote to cancel agreements entered into by a developer, so the forced relationships that existed decades ago are no longer practical."
Not Always a Smooth Transition
When it comes to a developer-board transition, no process is exactly alike. As a result, there isn't always a clean break. In some cases, new boards are required to deal with the developer after the "transition" has occurred, which means the developer has continued involvement in the community's administration. Perl explains that in Florida as long as the developer is holding out for sale at least five percent of a total 500 condominium units or two percent of more than 500 units, that developer has a right to appoint a member to the board.
"However, the unit owners control a majority of the board, so that is usually not a large issue. Larger issues may involve where the governing documents, which are drafted by the developer, of course, permit the developer to assign limited common elements such as parking spaces, etc., after turnover," says Perl.
The old adage of too many chefs in the kitchen can come into play after transition, especially when a developer still has influence on the board. As a result, certain challenges can be presented. "Unit owner boards prior to transition may want the developer to amend the documents, which is a power usually reserved to developers prior to turnover," says Sachs. "And going through transition, they may need to arrange for engineering studies, forensic accounting audits and the like."
Progressive, forward-looking developers seek to make the transition process as painless as possible for all involved. To this end, there are many steps that can be taken prior to beginning the process. This includes how developers populate the existing board, which is by appointment.
"When under developer control, the developer-controlled board should appoint prospective board members to committees to begin the learning process for these potential board members as to the workings of an association, working with the board, vendors and owners," says Perl. "Committees that are formed while the association is under developer control can be a great opportunity to develop future community leaders. If the developer does not make such appointments, the owner can appoint their own ad hoc committees to have the same effect."
Since being proactive and informed is the best policy for a property that is expecting transition, Sachs encourages prospective board members to do their due diligence. The reason is that developers are also in the process of closing a long-standing project and are often overloaded. "Developers during the transitional period may have one or more unit owner members on the board, and may be trying to close out sales, or will be working on punch list items. Typically, they will be trying to close out the project."
Elections & Governance
Even when a new board has majority control of the property, they must formulate policies in conjunction with laws on the voting and the management of the collective, which could include dealing with one or more developer-appointed members.
"If the unit owners are entitled to elect a majority of the board, the developer will likely have rights reserved in the declaration to prohibit the association from doing anything to interfere with the developer's ability to market and sell units," says Chapnick. "If the association desires to adopt rules or amend its governing documents, it must follow the mandates of the documents and applicable law."
Sachs explains that the majority of an association's rules and covenants are in place long before a single unit owner has purchased their home. This is stated in the declaration of condominium, bylaws, articles and rules and regulations filed by the developer on behalf of the association.
Regardless if a developer remains involved after turnover of majority control, most new boards, he says, concern themselves with specific adjustments to the rules that are raised by events that occur on the property.
"For example, it may be that the bulk of unit owners prefer the tennis court to be available by reservation, instead of first come, first served. Or, they find that additional rules are required to govern pets visiting common areas," says Sachs. "Usually, however, these rules do not conflict with the developer's interests, and so there is no reason for the developer to object. Of course, developers, by nature, have far more experience with residential condominiums than the majority of new board members, and many developer representatives are well respected by their associations and are looked to as a voice of experience on the property."
The good news for boards is that after transition, despite the possibility of the developer presence, the board holds the majority vote to make decisions that will best serve the community. It is at this stage that the board should build its roster of professionals to ensure that no snafus are realized.
"A competent management company is a new board's best friend, as well as professionals such as attorneys and accountants that typically work with new boards and guide them through this new process they are exposed to," says Perl. "Education of new board members is very important. For example, our firm offers weekly classes on all aspects of association operations and management at our Law and Learning Center, as well as our guidebooks, online seminars and extremely popular Board Member Boot Camp."
Since July 2010, section 718.112 of the Florida Statues was amended to provide that newly-elected board members take a Division of Florida Condominiums, Timeshares and Mobile Homes-approved educational curriculum once elected to qualify for board service. This training is overseen by the Florida Department of Business & Professional Regulation (DBPR).
"Within 90 days after being elected or appointed to the board, each newly elected or appointed director shall certify in writing to the secretary of the association that he or she has read the association's declaration of condominium, articles of incorporation, bylaws, and current written policies; that he or she will work to uphold such documents and policies to the best of his or her ability; and that he or she will faithfully discharge his or her fiduciary responsibility to the association's members," the statute states. "In lieu of this written certification, the newly elected or appointed director may submit a certificate of satisfactory completion of the education curriculum administered by a division-approved condominium education provider."
Dozens of Florida legal and management firms offer courses related to this training. Look up accredited coursework for condo board training at the DBPR website at www.myfloridalic ense.com/dbpr/lsc/condominiums/CondoCertificationProviders11012013.pdf
Aside from the now required Board Member Education Certification, Perl encourages all board members to access available industry information that will better assist them in their respective roles. "The best thing a new board can do is to take advantage of the free educational opportunities that are available to them," he says.
W.B. King is a freelance writer and a frequent contributor to The South Florida Cooperator