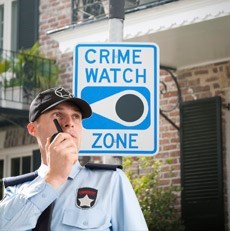 One gated community in Sanford, Florida was struggling with security issues. In a one-year time period, from January 1, 2011 through February 26, 2012, police were called to The Retreat at Twin Lakes more than 400 times. Reports show that crimes during this time period included eight burglaries, nine thefts, one shooting and dozens of reports of attempted break-ins.
In September 2011, the Twin Lakes residents wanted to do something about it, so they held an organizational meeting to create a neighborhood watch program. Resident George Zimmerman was selected by neighbors as the program's coordinator.
Last year, Zimmerman began his rounds, but on February 26, he called the Sanford police non-emergency number to report what he considered to be a suspicious person on the property. Zimmerman observed Trayvon Martin, a 17-year-old African American boy, returning to the Twin Lakes housing community after having walked to a nearby convenience store. At the time, Zimmerman was driving through the neighborhood on a personal errand.
While on the phone with police, Zimmerman followed and later fatally shot Martin, who was unarmed. The case—and subsequent acquittal of Zimmerman on murder charges—electrified the nation and sparked heated discussions of a number of hot-button issues, including the legitimacy and appropriateness of neighborhood watch programs involving untrained or minimally-trained civilians.
On Watch
According to the U.S. Department of Justice, the concept of neighborhood watch grew out of a movement in the United States that promoted greater involvement of citizens in the prevention of crime. Variations of the neighborhood watch have included block watches, apartment watches, home watches, citizen alerts and community watches. While many advocate for watch programs, touting their effectiveness in curbing crime and involving community members in keeping their own neighborhoods (or buildings or blocks) safe, others are more ambivalent.
"The Travyon Martin case provided us with a new perspective on neighborhood watches, and particularly the liability risk to the association when the association organizes and oversees the neighborhood watch," says Russell M. Robbins, an attorney and managing partner at the law firm of Mirza Basulto & Robbins LLP in Miami Lakes.
However, residents still want to feel safe and secure in their homes and associations, so many HOAs spend lots of money on sophisticated security and access control systems to protect residents and property, while others prefer to use live security personnel and still others continue to use neighborhood watch groups to aid in crime prevention.
"Neighborhood watch groups are most effective when they are in addition to, not in lieu of other security measures," says Robbins. "Having a neighborhood watch group does not negate the need for sufficient lighting, well-trimmed landscaping (to prevent hiding places for potential criminals), roving patrols, an entrance gate, etc. Of course, if a community has already suffered from criminal incidences, including serious ones involving death or injury, then it is best to go directly to hired security rather than relying on a volunteer patrol."
Setting Boundaries
Lisa A. Magill, a shareholder attorney with the law firm Becker & Poliakoff in Fort Lauderdale says that the type of security on the property depends on the community. "Each community has different needs," she says.
She explains that the main purpose of a neighborhood watch is to do exactly that—to watch. "That extra set of eyes and ears is available to alert staff or management to suspicious activity and to share information with community residents," she says. "In a planned development, the neighborhood watch can really help thwart crime by notifying residents whether exterior lights are out, landscaping blocks sight lines, cars have been parked in the driveway during the daytime (when most folks are at work) or cars have come and gone while the owners are out of town."
Magill says that watch groups are helpful if they report to the board or management on potential security concerns, such as checking to see if locks are operable, whether lights turn on at dusk, and noting damages to fences and the like so the association can remedy any problems and attend to maintenance needs.
"It is important to remember that neighborhood watch volunteers are not trained law enforcement personnel or security guards," says Magill. "Having both a neighborhood watch and hired security may become problematic if the goals and tasks of each aren't clearly defined."
As useful as watch groups can be, however, empowering citizens in such a capacity can raise big questions about safety, liability and training, particularly in light of these incidents such as the Trayvon Martin shooting. "The association should confer with its insurance carrier before launching a neighborhood watch program to determine what level of participation is permitted while still affording the association the maximum liability coverage in the event of an issue," says Robbins.
Magill says to reduce the potential for problems, the neighborhood watch should have members wear polo shirts with the community logo, create adequate signage and create and distribute newsletters containing safety tips and alerting residents to any reported problems. 'They all involve some expense, but it may be well worth the effort," she says.
Combining association efforts with that of local law enforcement can also reduce potential problems, says Magill. "The association should not only clearly define the goals of the program and specific tasks of volunteers, it must outline the exact parameters of volunteer action," she says.
She explains that volunteers should not carry firearms or other weapons or attempt to apprehend or follow suspicious individuals. "The goal of these programs is not to expose community volunteers to harm or personal injury—therefore the volunteers should have no contact with suspicious individuals."
Magill also recommends holding regular meetings with volunteers and community residents to re-emphasize the parameters of expected conduct. Residents should also be encouraged to report any volunteer activity that appears to violate any of the limitations on conduct so the board can address those concerns.
Don't Go There
"Think about the typical scary movie—you know the actor shouldn't go into that abandoned house or into the dark basement, to check out something that looks funny. Neither should your volunteers. If it looks like there are people in an unoccupied home, don't walk around the house to check it out—contact law enforcement," says Magill. "If you hear people at the pool at night after hours, don't take it upon yourself to reprimand them, contact law enforcement. You have no idea who is doing what and whether those persons have bad intentions, weapons or are unstable. You may think it's the local teenagers trying to get away with smoking cigarettes or drinking beer, but you do not want to be in the unfortunate position of discovering dangerous criminals and thus expose yourself to harm."
"This is why it's best that a neighborhood watch is best comprised of non-board members and non-affiliated with the association(s) it serves," says Robbins. "The neighborhood watch should consist of concerned individuals, who receive the requisite training on what is required of a neighborhood watch. If the association is aware of an individual or individuals who routinely exceed their authority in the neighborhood watch, it would be prudent on the part of the association to advise the local police agency and/or sheriff's office. Trained law enforcement should be the only parties taking action. Members of the neighborhood watch program are advised never to take action on their observations," Robbins says.
If an association wants to form a watch group, Donna DiMaggio Berger, Esq., a partner with the Margate-based community association law firm of Katzman Garfinkel & Berger, says that typically creating such a group only takes time.
"The most effective ones are created in conjunction with local law enforcement, who can come out and assist with both selecting the volunteers to participate as well as creating the protocols they must follow," Berger says.
Magill's neighborhood participates in the Broward Sheriff Office's Citizen Observer Patrol program. According to their website, the COP program is a volunteer group sponsored by the sheriff's office that uses a simple approach to safeguard neighborhoods through residents' involvement. Volunteers are local residents who help BSO fight crime by patrolling their community, looking out for suspicious activity or potential hazards and offering assistance to local residents.
"It is not always easy to determine what is suspicious activity," says Berger. "Just because a member of the watch does not recognize an individual, does not mean that the individual does not have the right to be inside the community as a guest of a resident. The watch participants should clearly go over the protocol with local law enforcement to determine which activities are worthy of reporting and which are not."
Berger says that the bottom line is: "The best watch groups are the ones that provide both a sense of security to the residents as well as constitute a reliable source of information," she says. "This can include advising residents to keep their car and house doors locked, their garage doors closed and items like bicycles, etc. stored safely inside rather than on a patio or lawn. If an incident occurs, the watch group should contact local law enforcement and then relate the incident to the board as well as the outcome. The goal is to enhance security not create hysteria."
Sadly, the Trayvon Martin case is definitely something that won't be forgotten—but lessons can be learned from the case about security, watch groups and the importance of having a security plan in place before something goes terribly wrong.
Lisa Iannucci is a freelance writer and a frequent contributor to The South Florida Cooperator.