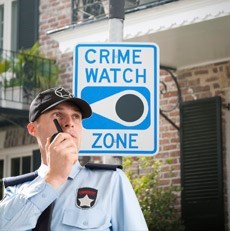 One gated community in Sanford, Florida was struggling with security issues. In a one-year time period, from January 1, 2011 through February 26, 2012, police were called to The Retreat at Twin Lakes more than 400 times. Reports show that crimes during this time period included eight burglaries, nine thefts, one shooting and dozens of reports of attempted break-ins.
In September 2011, the Twin Lakes residents wanted to do something about it, so they held an organizational meeting to create a neighborhood watch program. Resident George Zimmerman was selected by neighbors as the program's coordinator.
Last year, Zimmerman began his rounds, but on February 26, he called the Sanford police non-emergency number to report what he considered to be a suspicious person on the property. Zimmerman observed Trayvon Martin, a 17-year-old African American boy, returning to the Twin Lakes housing community after having walked to a nearby convenience store. At the time, Zimmerman was driving through the neighborhood on a personal errand.
While on the phone with police, Zimmerman followed and later fatally shot Martin, who was unarmed. The case—and subsequent acquittal of Zimmerman on murder charges—electrified the nation and sparked heated discussions of a number of hot-button issues, including the legitimacy and appropriateness of neighborhood watch programs involving untrained or minimally-trained civilians.
On Watch
According to the U.S. Department of Justice, the concept of neighborhood watch grew out of a movement in the United States that promoted greater involvement of citizens in the prevention of crime. Variations of the neighborhood watch have included block watches, apartment watches, home watches, citizen alerts and community watches. While many advocate for watch programs, touting their effectiveness in curbing crime and involving community members in keeping their own neighborhoods (or buildings or blocks) safe, others are more ambivalent.