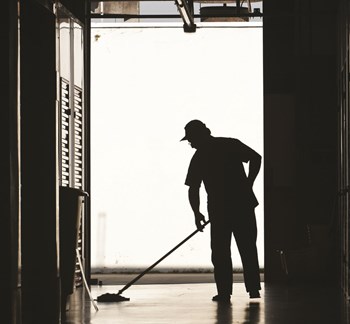 Supers, building managers, maintenance persons, custodial staff, groundskeeping personnel, porters, doormen, concierges—depending on the size of a community, the staff roster for a condo, co-op or HOA can be pretty long. The truth is, in the case of almost any building or association over five units, at least of few of these people are necessary to the effective management and maintenance of the property.
Traditionally in multifamily buildings, whether a high-rise elevator building or garden-style apartment complex, there was a live-in super who handled day-to-day maintenance and minor repair work. When something went wrong, that's who you called. The sink is backed up, call the super; an electrical outlet doesn't work, call the super. Need to install an air conditioner? Call the super. All that was required was a small tip to show your gratitude.
All that changed with the advent of owned units, regardless of the form of ownership. In co-op and condo buildings the super, as an employee of the cooperative corporation or homeowners' association, is there to supervise and maintain the common areas of the building. Anything within the confines of your actual unit is your headache. So, you'd better learn some basic home maintenance skills.
Building Staff Job Descriptions
According to Stuart Halper, president of Impact Management, a large co-op and condominium management firm located in New York, "Their duties are pretty general. In a larger building, the super manages the porters and doorman. In a building without porters or doormen, the super manages himself. More specifically, the super's responsibility is to oversee maintenance and other work, ongoing or case specific. He or she will also do certain types of light repairs, like simple plumbing or electrical work for example. Porters do the daily cleaning, pulling of garbage, vacuuming, dusting, etc. In the event there is no porter, the super will do these jobs. In non-union buildings, supers tend to have somewhat more wide-ranging responsibilities," due to the fact that union contracts outline job descriptions more thoroughly.
David Levy of Sterling Services Inc., a property management firm based in Holliston, Massachusetts, says emphatically that "There is a direct relationship between resident satisfaction and site staffing level. The role of in-house maintenance personnel in all forms of shared equity residential property, whether it be condos, co-ops or HOAs, is to provide higher and faster service levels than might be provided were these services handled by off-site maintenance staff. This is for several reasons. First, the on-site staff knows the property better. Second, there isn't any travel time to the property. Third, parts that might be needed can frequently can be pre-stocked on-site. And fourth, the staff knows the residents – including those with special needs."