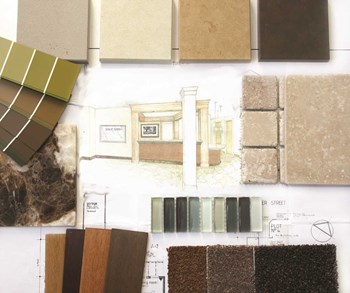 Curb appeal provides that first impression, the attention-grabbing feature that all condominium and co-op properties strive for. In Florida, curb appeal usually starts with a little paint and a lot of native landscaping, plus some dramatic lightscaping. No matter how elaborate or simple the curb appeal may be, its job is done at the curb. Once your outside is looking good, it may be time to move the charm and ambiance indoors.
Maintaining a property's common areas is a major responsibility for a homeowner or community association board. A board will spend a large allotment of time, effort, and budget on ensuring all common areas are safe, attractive, and appealing. Common areas may vary from a simple lobby and mailroom to an elaborate clubhouse complex of swimming pools, meeting, exercise, and party rooms. Regardless of the size and scope of the common area, there will come a time when maintenance has done all that is possible, and it is time to redecorate.
Going Pro
Refreshing and redecorating usually occurs every five to ten years, whenever budgets will allow. Given the long intervals between updates, it can be a major challenge to strike a balance between current styles and upcoming trends. Knowing the difference between a trend and a fad is a job for a skilled and trained interior decorator. A professional designer will make suggestions, prepare sample boards, and be prepared to talk price and return on investment with a design committee and/or board. A professional will also be aware of the latest style changes and cutting edge products, and how those elements can be utilized and customized for your property's best advantage. The end result must be affordable and attractive to both residents and potential homeowners. A design that is easy to maintain is also extremely important.
A property's architecture may help shape or define the direction a committee will ultimately choose for a decorating design. Older properties in Florida often lean towards Spanish or Mediterranean architectural style, while newer properties may vary from contemporary to ultra-modern. A general 'tropical' theme is an obvious—and popular—choice in Florida, but it doesn't allow a property to stand out in the typical Floridian backdrop. Classic, contemporary, traditional and eclectic looks may offer more opportunity to express individuality and to showcase a property's best features.
David Bromstad, HGTV's original Design Star and host of HGTV's Color Splash is based in Miami, and "in Miami, we kick it up a notch," said Bromstad as he shared his predictions for 2012 interior design trends.
Color & Co.
Bromstad expects wallpaper to make a "huge comeback." "We are going to see a lot more of big, bold, graphic wallpaper like we used to see years ago."
For areas where it is not practical to wallpaper, or for those wary of committing to a wallpaper pattern, Bromstad suggest using a decorative stencil. "Bold graphic stencils will be all the rage," he predicts. Stencils can provide an ideal option to bring color and excitement to an area, and then easily be painted over when a change is desired.
He suggests bringing in pops of colors though accent pieces and accessories. Replace plain area rugs with bold patterned ones. Then pick up a color in the rug to use for pillows if furniture is part of your design, or other accessories. Bromstad recommends mixing patterns and prints. "Designers are using bold patterns on couches and chairs, and then adding a different bold pattern on their area rugs and pillows," he says. "When done right, it's a fabulous look." Bromstad describes an eclectic look as the number one rage currently, and is glad to see the end of the "matchy-match" trend.
He says all shades of purple will remain popular, continuing a trend of several years. "From shades of gray-purple and lavender to vibrant and bright, purples are resonating with people's psyches because they're flirty and sassy. Bright bold colors help provide a psychological boost."
Global color authority Pantone has selected 'Tangerine Tango' as the 2012 Color of the Year. Bromstad suggests that brave decorators can use the bright color on an entire accent wall, while the more cautious can use the trendy citrus shade in accents like pillows and accessories. Tangerine Tango is a "gorgeous color," Bromstad says. "It doesn't take much to make an impact."
Besides purple and tangerine, green is enjoying increased recognition as both a color and a movement towards more environmentally-friendly practices. As a color, some believe green is the new neutral. Interior designer and educator, Sabina Vavra of Madison West Interiors says "the beauty of using the vast hues of green lie in its ability to easily juxtapose with almost any other color in the color wheel." While Vavra is home-based in California, she is nationally and international known for her decorating style. One of her favorite ways to use the new neutral is to combine emerald green, with black and turquoise to create a vivid room. Other classic green combinations include: lime green and pink, palm green and burnt orange, kelly green with navy and crisp white, pale aqua and raspberry, and sage green and silver. HOA design committees have so much to work with, choosing a fresh new color scheme is really only limited by the tastes and adventurousness of their community.
Coastal Chic
Bromstad feels another way to impact design is with lighting; it creates a mood in an area and is an important design element. Use task lighting, accent lights and ambient light in an overall design to create areas of interest. Bromstad says he expects to see a trend toward more chandeliers in upcoming design plans, as well as a resurgence of real, natural elements such as various woods, seashells and natural grasses.
In the Tampa Bay area, interior designer Judy Dechant of Mar-go Interiors in Wesley Chapel has noted a very different trend in colors compared to the hot Miami landscape and Vavra's striking combinations. "In the Bay area, the bright tropical Tommy Bahamas colors, popular for many years, are now trending towards a softened palette. Shades of aqua and soft blues evoke calmness and the serenity of being at the beach or the spa," said Dechant. Like Bromstad, she has seen more natural elements like sea shells and grasses introduced into a design. The new trend towards softened colors and nature is often referred to as "Coastal Chic." This style blends well with the dark wood and rattan originally popular with the Tommy Bahamas style.
Dechant approaches a design challenge by first studying the "bones and structure" of a project. If she is working with a design committee, she maintains a professional attitude while striving to lead the group to the best ideas with the least amount of discord. When high quality products have been used it is often possible to refurbish rather than replace, saving valuable funds. "A good decorator will rely on classics," says Dechant. "Replacing accessories, art and lighting, can change the atmosphere economically. She likes to appeal to all the senses in her finished designs, colors to attract the eye, a fountain, chimes, or music to create background sounds, and even "scent branding" in small places where an aroma therapy concept can be used successfully. According to Dechant, The Coastal Chic look has ushered in two interesting trends in art and lighting. Like Bromstad, she has noticed a resurgence of chandeliers, and also a bolder approach to art work, specifically canvas art work and art created from photos. Dechant likes large canvas art, unframed and glassless, used to create a gallery effect in lobbies and hallways. "This is an effective way to bring color and interest into an area for very little expense. Additionally, when it is time to redecorate, this type of art is easy to relocate or replace."
Green Design
Olga G. Alvarez, ASID, IIDA, LEED-AP ID+C, is the owner of Project Coordinating Services, LLC, in Hollywood. She is an active member of both the design and the local community, and recognized as a "green" design specialist. Alvarez was recently honored by the Broward County Commission, in the county's first "Green Go-Getter" Award. In 2011, she received the Broward County Emerald Award.
When it comes to green design, Alvarez is quick to point out, "Green is here to stay." Today more than ever, eco-conscious building owners know there are ways they can save money in their homes. Many condo dwellers are looking for high-efficiency energy systems, water-saving devices, and products and materials that improve indoor air quality."
When designing common areas and lobbies, Alvarez always recommends simplicity and timeless elegance. Lobby areas have traditionally been transitory spaces, but the trend is towards utilization, and more than just unused furniture groupings. She favors natural materials like marble, wood, and stone, coupled with colorful accents. "Emphasize lighting, as well as textures that create dazzling effects, with ease of maintenance. Even if maintaining simplicity, you can also incorporate technical advances (Wi-Fi, plug and play) to create functional gathering places for residents as well as visitors. Universal design is being implemented in many living environments. Condo dwellers come in all ages and demographics; you must design for all age groups," she explains.
Alvarez feels it is important for a condo design committee to do their homework and provide insight to a designer, on the likes, dislikes, wants and wishes of the residents. She suggests the best way for design committee to educate themselves is to look on the Internet or look at magazines for the latest trends. "The key to achieving a committees' vision is relevant information and a realistic budget so a design professional can use their knowledge and expertise, she said. Interior designers are trained to help clients strike a balance between what's trendy and what will stand the test of time. As Yves St. Laurent said, "fashion fades, style is eternal."
For those who want to remodel following "green" guidelines, the American Society of Interior Designers (ASID) provides a program called REGREEN®.
Changes
The National Association of Home Builders (NAHB) has noted a shift in the design of common areas, and a trend toward having areas bleed seamlessly into one another. In the past there were more separate, distinctive rooms; now, computer centers, media centers, and lounge areas are often part of the same room. This type of design encourages interaction among residents.
Fitness centers are also enjoying a positive trend as fitness remains a priority and properties are shifting on-site gyms to prominent locations and adding more high-quality equipment. These trends are a positive reflection of the desire to keep current residents satisfied, and to attract new buyers in a suppressed market.
A trend towards adding other niche amenities like storage, garden plots, and pet areas has also been noted, but properties must determine the level of interest for residents before going to the expense of developing these niche amenities.
Anne Childers is a freelance writer and a frequent contributor to The South Florida Cooperator.