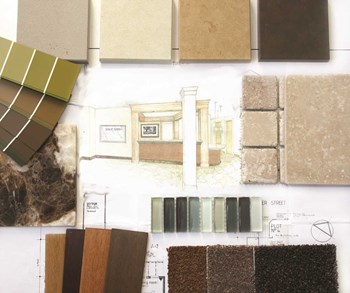 Curb appeal provides that first impression, the attention-grabbing feature that all condominium and co-op properties strive for. In Florida, curb appeal usually starts with a little paint and a lot of native landscaping, plus some dramatic lightscaping. No matter how elaborate or simple the curb appeal may be, its job is done at the curb. Once your outside is looking good, it may be time to move the charm and ambiance indoors.
Maintaining a property's common areas is a major responsibility for a homeowner or community association board. A board will spend a large allotment of time, effort, and budget on ensuring all common areas are safe, attractive, and appealing. Common areas may vary from a simple lobby and mailroom to an elaborate clubhouse complex of swimming pools, meeting, exercise, and party rooms. Regardless of the size and scope of the common area, there will come a time when maintenance has done all that is possible, and it is time to redecorate.
Going Pro
Refreshing and redecorating usually occurs every five to ten years, whenever budgets will allow. Given the long intervals between updates, it can be a major challenge to strike a balance between current styles and upcoming trends. Knowing the difference between a trend and a fad is a job for a skilled and trained interior decorator. A professional designer will make suggestions, prepare sample boards, and be prepared to talk price and return on investment with a design committee and/or board. A professional will also be aware of the latest style changes and cutting edge products, and how those elements can be utilized and customized for your property's best advantage. The end result must be affordable and attractive to both residents and potential homeowners. A design that is easy to maintain is also extremely important.
A property's architecture may help shape or define the direction a committee will ultimately choose for a decorating design. Older properties in Florida often lean towards Spanish or Mediterranean architectural style, while newer properties may vary from contemporary to ultra-modern. A general 'tropical' theme is an obvious—and popular—choice in Florida, but it doesn't allow a property to stand out in the typical Floridian backdrop. Classic, contemporary, traditional and eclectic looks may offer more opportunity to express individuality and to showcase a property's best features.
David Bromstad, HGTV's original Design Star and host of HGTV's Color Splash is based in Miami, and "in Miami, we kick it up a notch," said Bromstad as he shared his predictions for 2012 interior design trends.