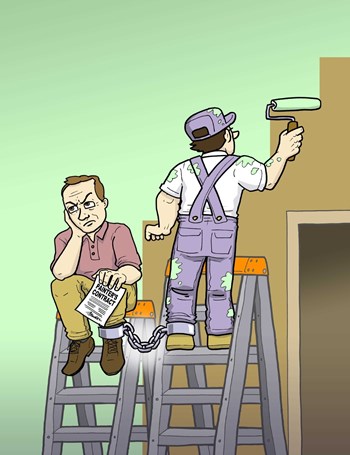 A major building rehabilitation for a large condominium community included impact-resistant replacement windows, at a six-figure cost for materials alone. The owners' association advanced money to the contractor to buy the windows. When they were supposed to arrive, the contractor said they were delayed. As the delay dragged on, the association called the supplier, who said, "Those windows are occupying 50 percent of our warehouse. Come and get them."
It turns out, explains Ramon C. Palacio, a partner with Association Law Group, PL, in Miami Beach, that "The contractor used the money for other people's projects. The association had a contract, but the contractor was an owner-operator LLC (limited liability company). You can't get blood from a rock."
The association and the contractor haggled for a year and a half. Ultimately, the association agreed to pay for the windows again, this time directly to the supplier. The contractor agreed to install the windows without being paid for labor. "That didn't go well, but the association had no choice," Palacio says.
The second time around, the association required a performance bond. If the contractor had failed to perform, the bonding company would have been obligated to engage another contractor to finish the job at the contracted price, with the work guaranteed by the bonding company.
Including a bond in a contract costs up to three percent of the contract sum, for which the association pays. Jay Steven Levine, founder and shareholder attorney with the Jay Steven Levine Law Group in Boca Raton, recommends bonding for large jobs as an extra layer of performance protection but notes that "not every contractor is bondable or willing to be bonded."
A Vetting Checklist
Bonding is just one way in which an association can protect itself against contractor problems.
First, the association should decide what it wants to accomplish in a contract, and be sure everything is included. "What's not written in a contract doesn't exist, even if the association and contractor discuss something," Palacio says. He recommends a review by the association's attorney before a contract is signed, but notes that "counsel won't know what's in the board members' minds if it wasn't reduced to writing."
Once the goal is clear, the quest for a contractor begins. "Word of mouth carries considerable weight," says Matt Zifrony, an attorney and director with Tripp Scott, a law firm in Fort Lauderdale. "If your property manager is part of a bigger company, he or she will know other property managers and can get recommendations from other associations." Some management companies maintain lists of preferred contractors. If an architect, engineer, or other design professional is involved, he or she may suggest contractors, and may solicit bids to select a low bidder before writing a contract.
"Make sure the contractors you consider are properly licensed and have a good record with the Better Business Bureau," Zifrony says. "Ask for references, too. That's a little misleading because the only people you'll get are friends, but a contractor who is unwilling to provide references reflects badly."
To find out when a contracting firm was formed, visit the Florida Department of State Division of Corporations website, www.sunbiz.org. "If it's very recent, that is a red flag," Palacio says. "Search the principals of that entity to find out what other entities they served as officers or directors. If you find entities with similar names, or with different names in the same trade, it could be a telltale sign that they have no insurance, leave people high and dry, and go on to a new entity."
Another useful search is your county's Clerk of Courts, to determine whether the contracting firm or its principals appear in litigation. "If you see a bunch of suits from associations, you can count on that happening to you," Levine says. "That's a negative, even if the contractor was in the right. It means he put himself in a situation where he had to sue or be sued. You could even call the attorneys in those cases and ask for details."
When you begin to negotiate, "be concerned if a contractor isn't willing to give a warranty on the work, or if the proposal is skimpy and one-sided on the contractor's behalf," Levine says.
Note the feeling you get as you begin to negotiate, Zifrony advises. "If the other side is arrogant, expect the same attitude when they are doing the work. If they are more flexible, they will be easier to work with down the road. Whom you contract with is a lot more important than the contract itself. With a bad person on the other side, there will be a problem. With a good person, you won't have a problem even if you jot down the terms on a napkin. Have a handshake agreement with an honest person and he'll go out of his way to do what you want him to do."
Writing the Contract
In negotiating and writing a contract, an association board should rely on advice from its manager and management company, attorney, and design consultants—but the board makes the ultimate decision on the terms to which it will agree.
Here are some elements that an association should seek to include:
• Termination for cause, which Levine says could occur "if the contractor isn't performing in a material manner, if he isn't putting enough manpower on a big job and it isn't progressing to completion anywhere near the date specified in the contract, or if the contractor isn't complying with the scope of work."
• Termination for no cause, which could occur if the association board decides to get rid of a contractor it doesn't like, if a new board or management company wants to replace the contractor with another it prefers, or if the board elects not to complete a project that is already underway. Then the association must pay the contractor for all costs and expenses he incurred prior to the termination. "The contractor would have to be made whole," Zifrony says. To cut the association's losses, it could write the contract "to separate the job into phases, giving the association the right to terminate for no cause after each phase."
• A default clause, which allows the association to cancel the contract if the contractor doesn't cure a default within a specified time after notice by the association. The time to cancellation may be five, 10, or 30 days. If a time limit isn't specified, "then the association is stuck," Palacio says. To avoid a merry-go-round of recurring defaults, he likes a provision that "if you've been in default x number of times, and if I've notified you that you're in default, I have a legal right to terminate without penalty even if you cure the defaults."
• A description of the work to be done, including a comprehensive scope of work statement, and a schedule of values containing a complete breakdown of quantities of materials and labor and their associated costs.
• A schedule that specifies three dates: when the work will begin, substantial completion, and final completion. "The association may include a liquidated damages provision—a sum per day if the work continues beyond the specified substantial or final completion date," Levine suggests. "At $250 or $500 a day, if the project is a month late, it can add up in the association's favor."
Sometimes what isn't in a contract can be equally important. "If the association signs a multi-year contract with an automatic renewal," Palacio says, "the day after you sign, you should send a certified notice stating, 'We are not renewing our contract two years hence,' but some vendors say you can only notify them of non-renewal within the last 30 days." To avoid such complexities, Palacio advises associations to delete automatic-renewal provisions.
When Levine is involved in writing a contract, he moves the negotiated agreement into The American Institute of Architects' standard template for contractors "with an addendum that slants the playing field to the association."
If Problems Arise
If a contract dispute develops, "put the contractor on written notice of your displeasure," Zifrony advises. "You want to establish a record. Even if the contract doesn't require notice by certified mail, send it that way so you can prove it was received."
The contract should give the contractor an opportunity to cure the deficiencies. If he doesn't, the association could declare the contractor in default and terminate the contract. If the contractor doesn't believe that he has defaulted, he could sue the association for the additional profit he would have realized upon completing the job.
"If you terminate for cause, it becomes a factual question," Zifrony says. "Any time you terminate for cause, you expose yourself to a possible claim by the contractor."
That claim typically takes the form of a contractor's lien, which becomes an impediment to clear title for any unit owner trying to sell or refinance. "Most title companies will accept an affidavit from the association at closing that sufficient funds are on hand to finish the job," Levine says. "But sometimes the title company says you must get a release of that lien, and the contractor may not cooperate."
Many contracts include a pre-lawsuit mediation clause. "I like that," Levine says. "Mediation is not binding; it's a way to get the parties together with a third person who can help them come to the middle."
Another possibility is arbitration, which Levine doesn't like. Arbitration is binding and will force a decision upon the parties. "It's less expensive and more expedient than litigation in court, but something will be decided for you rather than with you," Palacio says.
The third alternative is litigation. "In a jury trial, the sensitivity and sympathy may be more with the association as the owner," says Levine, but nothing is guaranteed, and the contract may require the loser to pay the winner's legal fees.
Most Contentious Contracts
Certain types of repairs and services are prone to contract disputes, construction-law attorneys say.
Roofing jobs, concrete restoration, and replacement of windows and sliding glass doors top Jay Steven Levine's list. "They create the most disruption to the residents, and they often cause the most damage to other components if the work isn't done correctly," he says. "Also, these are big-ticket items. More money at stake means more opportunity for dispute."
Beauty is in the eye of the beholder," says Zifrony. "The most dispute-prone vendors provide services for which the standards of performance are most subjective. If your residents are unhappy with a particular security guard, the company may send that guard to another community and rotate another guard into your community."
Landscape maintenance and solid-waste collection also generate many service-contract complaints because their shortcomings are visible to community residents. "A landscape company may cut the grass fewer times per month than the contract specifies, or not mulch or fertilize enough," says Palacio. "Similarly, if the sanitation service isn't picking up as often as it should, garbage could overflow into the parking lot."
George Leposky is a freelance writer and a frequent contributor to The South Florida Cooperator.