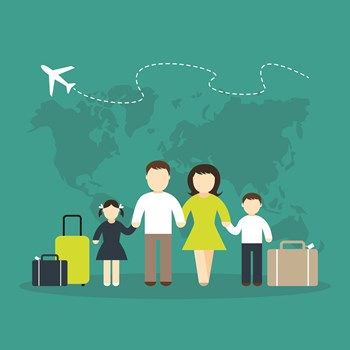 Every year the state of Florida experiences an ebb and flow of full-time and part time residents; as the seasons change, so does the population. Part-time residents from the northern United States and Canada live and work in Florida for an extended time every winter, while a percentage of permanent residents of Florida migrate north during the warmest months, and an even larger number of residents call Florida home 365 days of the year. The official census of 2010 places Florida as the fourth most populated state in the nation with 18,801,310 residents. Estimates increase those figures to 19.5 million currently and still do not reflect the influx of vacationers and visitors Florida attracts each year.
Snow- and Sunbirds
With 8,000 miles of shoreline and 1,300 miles of sandy beaches, it is easy to see why Florida is both the residential and seasonal destination for millions of Americans, Europeans, and international world citizens. It is unclear exactly when northern visitors to the Sunshine State became known as "snowbirds," but Canadian singer Anne Murray made the term famous in 1970 with the release of her song bearing the same name. The term is applied most commonly to the seasonal northern visitors who visit Florida annually generally during the period from November through April. National elections, early or late snowfalls and holidays can and do affect the annual exodus in both directions. Full time residents who leave Florida for several weeks during the hottest summer months are often referred to as "sunbirds."
No matter what term is applied to residents, this annual migration can present challenges for condos, HOAs and the property management firms that work on a personal level with this segment of Florida's population. After all, administrative and managerial duties remain constant regardless of the season. Security, emergency access to units, voting and ongoing communications can get complicated when residents are miles away for months at a time. Well-run buildings and associations have systems in place to manage the myriad of concerns with proactive operating strategies tested and in place, all year long.
Ben Solomon, Esq., managing partner and co-founder of Association Law Group in Miami, has seen varied scenarios with snowbirds in the heavily-populated Miami area. In his experience, oceanfront condos are most often occupied with seasonal residents—sometimes as much as 75 percent of the building's population—while nearly all the condos west of the beaches are occupied by regular full-time residents.
Trouble in Paradise
Inconsiderate or unconcerned seasonal owners can make life in the Sunshine State something less than paradise. "Security, short term leasing, and maintenance are all issues seasonal buildings face frequently," Solomon says. Additionally, out-of-state or overseas property owners sometimes send in payments and fees late. If an owner fails to pay at all, it may be difficult to pursue legal action across state lines or country borders.