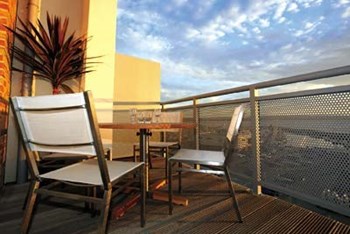 During the building boom of the 1980s, 90s, and early 2000s, condominium developments all across the country were trying to give their units a little edge. Some added upgraded cabinetry and flooring. Others included high-end appliances, sunken living rooms, and vaulted ceilings. Those developers who really wanted to add something special, however, went the extra mile and added wooden decks to the exterior of their units.
These decks were a major selling point for condominiums bordering golf courses, lakes, and other more scenic areas. Unfortunately, the high maintenance costs, as well as relatively limited usage life of these wooden gems weren't always disclosed to the purchasers, and some have begun to fall into disrepair. Through the use of more modern techniques and materials, however, maintaining and enjoying a wooden deck does not have to be a hassle.
A Matter of Time
The relatively hot and humid weather residents enjoy in South Florida typically limits the life span of most wooden decks to about 15 years. Annual maintenance with a quality sealer and preservative can increase the life span by as much as 50 percent, almost entirely eliminate the mildew and fungus growth, and help the wood to maintain a like-new appearance. The use of certain building materials and advanced techniques can also add many additional years of use to any deck.
"When using hardwood species such as Ipe, Cumaru, Tigerwood and Garapa, a deck can easily last 40-plus years," according to Dan Ivancic, director of marketing in the New York office of Advantage Trim & Lumber Co., which also has locations in North Carolina and Florida. "With these hardwood species, maintenance is much lower than traditional wood decking and composite decking as well. The only maintenance that is typically needed is the application of Ipe Oil, which helps block UV rays from turning the wood gray, reduces chances of warps and cracks and helps repel water."
Ivancic notes that Ipe oil is not to be confused as a wood deck sealer, which is a topcoat that covers the wood, eventually flaking and peeling off, necessitating major maintenance to restore its appearance. "Ipe oil penetrates into the wood grain and is completely absorbed, so there is never any flaking or peeling to worry about. The oil can be easily rolled, brushed or sprayed on—then you just let it soak into the wood, so application is much easier than a traditional water sealer for wood decks. The oil can typically be applied every two or three years, depending on how much direct sunlight the deck is exposed to."
In Florida's subtropical climate, factors such as the sun, water, and even poor installation can contribute to increased rates of deterioration in outdoor decks. In most cases, it is a combination of all of the above, as well as lack of proper maintenance, that lead to early failures. These failures are not always immediate, and can begin with a single board. By the time you notice that you have a problem, it is normally too late.
If you do notice that your deck is starting to go, the question becomes who is responsible for replacing it.
"From our experience, decks are the entire responsibility of the homeowner," stated Ron March, sales manager for Morrison Contractors in Dania Beach. "The only time that a deck would be the responsibility of the association is when that deck is part of the common area of the community."
New & Noteworthy
There are many new and improved decking material options on the market today for the environmentally-conscious consumer. The sustainability of decking materials, composites, and other factors all play a role in deciding how to rebuild your old fashioned, pine board deck. One of the newest composite materials is made from one of the oldest building materials on the planet; bamboo.
"Bamboo Composite Decking is a revolution in the decking industry," says Jeff Goldberg, CEO of San Diego-based Cali Bamboo. "From a strength and durability standpoint, it is leaps and bounds above traditional lumber. BamDeck™ Composite even outperforms other composite decks; it's twice as hard as other composites, 4 times stronger, and absorbs 1/10 as much water. All composites share the benefits of low to no maintenance, never requiring painting, sealing or staining. It's manufactured from 70 percent recycled plastics and 30 percent bamboo pulp, the latter being a byproduct from manufacturing our other bamboo products."
Another popular composite material for decks comes from Trex, the world's largest manufacturer of wood-alternative decking and railing products. According to March, "Trex turns millions of pounds of recycled and reclaimed plastic and waste wood each year into Trex products. Most of these raw materials come from recovered plastic grocery bags, plastic film, and waste wood fiber. Trex Company purchases approximately 300 million pounds of used polyethylene and an equal amount of hardwood sawdust each year, materials that would normally end up in a landfill. The company recycles over 1.3 billion grocery retail bags annually."
Composite Controversy
Composite materials may be popular but they do have their detractors. Ivancic says that, "The recyclable and biodegradable aspects [of natural wood] are something composite decking products can't offer, because once the plastics have been mixed with wood fibers they can never be recycled again. That means the millions of feet that have been recalled are sitting in landfills. They will never decompose, and sometimes they actually increase their pollution levels, since PVC placed into a landfill can extend its lifecycle of pollution as toxic additives continue to leach out. That's in addition to the class action lawsuits and very unhappy homeowners who have constant mold and deterioration issues and have been forced to replace their faulty decking out-of-pocket."
In today's economic climate, everyone is looking for the most cost-effective way of doing things. There are no easy answers as to whether to go the extra mile and replace the old, failing deck with exotic hardwoods, composite materials, or stick with the traditional pine boards. This often leads associations—as well as homeowners—to replace their decking with the same material that they just removed. In the long term, however, this may actually end up costing more money. Many large-scale commercial projects are upgrading their old fashioned pine decks with newer, possibly better hardwoods.
"The Atlantic City Boardwalk uses Ipe and Cumaru to replace the old pressure treated pine that is rotting away from the tropical summer and salt water as well as the harsh cold winters along the coast and millions of people walking the boardwalk," says Ivancic. "These hardwoods have also been used at Treasure Island in Las Vegas, The Miami Boardwalk and the Coney Island 10-mile Boardwalk, to name just a few commercial jobs," he says. "The next hot trend is the use of hidden deck fasteners so that there are no screw or nail holes in the face of the decking boards—this leaves the deck surface blemish-free and eliminates moisture constantly penetrating traditional screw holes in the face of the decking boards."
Counting Costs
So how much do these various options actually end up costing condos and HOAs? Budget considerations are always a factor, but according to March, getting the lowest price in the short term is not the issue. "You're going to spend approximately the same amount of money," he says. "The question is whether you spend it sooner or later. The choice is between a natural wood deck and a composite deck at approximately 35 percent more. Natural wood decking, when properly maintained, will last as long as a composite deck. The choice is whether to spend the yearly maintenance for the wood deck or apply that cost towards the more expensive composite deck."
Goldberg points out, however, that, "The tradeoffs for choosing 'lowest price' materials are: diminished visual appeal, diminished durability, increased maintenance requirements, decreased comfort, greater demand on the environment and limited natural resources."
The primary question in replacing a wooden deck is how do you want it to look when it is done? If you like the look of a pine deck, then you should think of replacing it with pine but remember, that may incur an additional cost in terms of maintenance. If you want to go with a newer hardwood, you won't have to worry about the maintenance quite as much, but you may suffer some of the ire of the environmental community for choosing such an exotic material.
If you choose a composite, you will be doing your part to at least try to be more environmentally-conscious but may be hurting the environment in the long run. After you make your decision, be sure to gaze out on whatever scenic vista you have from your new deck and enjoy the view.
Adam J. Sinclair is a freelance writer and a frequent contributor to The South Florida Cooperator.