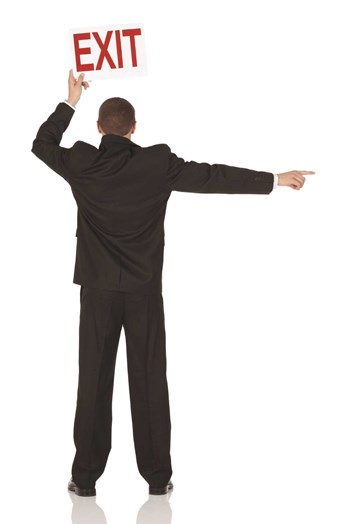 When it comes to ensuring the safety of each resident in a homeowner's association before, during, and immediately after natural disasters like tropical storms and hurricanes, South Floridians know that it's critical to have an updated emergency plan in place that reflects the uniqueness of their individual building and property. The end goal in any emergency event is a clearly defined, safe evacuation plan.
"It's important to go back to the basics of emergency planning," says Aaron Gallaher, communications director of the Florida Division of Emergency Management (FDEM). "We just don't look at floods or hurricanes or fires, because some of the same steps you would take in a hurricane are the same steps you would take in flash flooding. Our main goal in any event is to secure and stabilize 72 hours after the event."
And while it is recommended to revisit a disaster plan each year, there isn't a template that will cover all the bases every time. "Every community is different. There is no one-size-fits-all approach to disaster planning," says attorney Anne Hathorn with the Tampa-based law firm of Becker & Poliakoff. "The most important thing is getting the dialogue started. Associations need to figure out what they want to do, determine their resources and where they are vulnerable."
Gallaher says that the more prepared a community is prior to a natural disaster or other crisis event, the better prepared FDEM is in responding. The best way for a community to determine if they have a good plan in place, or if there is no plan in place, is to visit the newly launched Get a Plan (www.flgetaplan.com). "Families and businesses can both go there, plug in information and it will allow you to build your own emergency management plan," says Gallaher. "If there are residents with special needs or special medications, those things are taken into account. It's a good basic starting point."
With late August and September being peak hurricane months, the FDEM annually recognizes the National Hurricane Preparedness Week during the first week of June. This is to encourage all Floridians to review emergency plans and restock disaster supply kits.
"Each year, National Hurricane Preparedness Week reminds Floridians that it only takes one storm to change the landscape of a community," notes FDEM Director Bryan W. Koon. "This year, on the 10th anniversary of the 2004 hurricane season, I urge all Floridians to take steps to prepare themselves and their families for the upcoming hurricane season."
Weather Memory Lapse
While Koon points out that past years—most memorably 2004—have produced some horrendous hurricanes, there hasn't been a really major storm in the region in recent years. As a result, some residents may have become a little nonchalant about the potential threats posed by Mother Nature.
"Where I live in the Tampa Bay area, and around the entire state, we are all getting a little complacent, because it's been quite a long time since we suffered any significant damage from a tropical storm or hurricane," says Hathorn. "We were doing lots of disaster plans from 2005 through 2007 but I haven't written or prepared one for a client in many, many years." She adds that while preparation/evacuation /recovery plans are key to protecting the physical safety and property of an association, to her knowledge, condos and HOAs are not legally required to formulate one.
Gallaher agrees that memory of even the nastiest storms tend to fade over time. Aside from it being a number of years since the last major storm event, the population demographics of the state has also changed. "We had more people move into the state since the last major hurricane, and they come from areas where hurricanes are not a threat. And you have a group of people who were much younger but can remember going through one. Now they have aged and are now responsible for their own actions."
Hathorn personally handles hundreds of condominium and homeowner associations, and she says that aside from natural events, there are other disasters such as malfunctioning water pipes causing significant water intrusion damages; however, these not-exactly "sexy" issues are often overlooked when it comes to disasters. This past summer two of Hathorn's clients were subject to major fires. "This is the first time that I really experienced a multiple-disaster event. To my understanding, neither of those clients had an emergency plan," she says. "Like I do with all my clients, I recommended that they develop an emergency plan."
For some associations, the cost involved with developing a plan is prohibitive, which is why FDEM's "Get a Plan" is an important free service. "There are generic plans that the counties put out," says Hathorn. "I'm sure some of my smaller clients that might not want to spend the money to have me prepare one may just use those."
Education and Messaging
While emergency plans, generic or unique, will differ from organization to organization, those communities with an emergency plan in place should make all efforts to educate residents. This can be done via board meetings, email or bulletin boards. If an association is comprised of diverse residents than multiple language messaging is recommended.
"Depending on the age and population and the needs of residents, there are different ways to communicate," says Gallaher. "It might a bulletin board people pass every day, or another community might use a website or newsletter. My advice is to use every available means that is already established to communicate that plan. You have to be consistent in the delivery of that message."
Board members and managing agents might be responsible for the development and administering of an emergency plan, but if a disaster strikes, they should follow the plan like all other residents. "In my opinion, during an event, board members, managers and staff should be responsible for themselves," says Hathorn. "They should not be undertaking things like opening up the clubhouse to let a resident in during a hurricane."
Here are 10 recommended emergency planning tips for shutting down and evacuating a property ( Courtesy of The Ormond Heritage's Emergency Operations Plan)
• Make final announcements to all staying residents over PA system and CCTV.
• Notify Fire Department with a list of residents who are not going to evacuate and understand all evacuation routes.
• Make sure all fire exits are cleared.
• Make sure the building's fire alarms work properly.
• Make sure all important documents in place–paper copy, digital copy, emergency contact lists, etc.
• Shut off all potable water supplies.
• Make sure the pool pump is shut off and pool is drained by three inches.
• Inspect the entire property to make sure all is secure.
With that said, there are laws in place that due grant board members certain powers during and after events. "There are statutes that govern condominiums, homeowner associations and cooperatives that gives boards emergency powers in the event of a disaster like a hurricane," says Hathorn. "It's a good idea to educate themselves on the emergency powers they do have, like entering units after an event."
The age of residents can also play a role in determining best practice emergency planning, as do the special needs of those residents, such as medications, as well as care of their pets. "One thing people tend to forget about is pets. There has to be a plan for pets, too. Shelters that accept pets during events should be included in the plan," notes Gallaher.
One of the biggest misconceptions regarding evacuation is the distance in which a resident should flee. In most cases, residents travel too far. "When it comes to evacuation routes and the need to evacuate, people think they have to go hundreds of miles away," says Gallaher. "We emphasize that people should go tens of miles away. They need to go just far enough to remove themselves from the immediate threat and ride out any remaining threats."
Insurance and Best Practices
The safety and well-being of residents, board members, managers, staff, and pets is always the paramount concern after a disaster. But when the event passes and residents are left to rebuild, it becomes equally important to ensure that proper insurance is in place and that related due diligence has been exercised.
According to a 2013 National Association of Insurance Commissioners (NAIC) survey, approximately 48 percent of homeowners and renters polled did not have an inventory of possessions. For those respondents who reported having a checklist, 32 percent had not taken any pictures and 58 percent had no receipts validating the cost of their possessions.
"There is a need to look at all hazards in planning for an emergency," says Gallaher. "Back in the spring, for example, in the panhandle where all the flooding happened. In one county, 24 inches fell in 24 hours. That wasn't a tropical storm or hurricane; it was just a rain event that resulted in the declaration of an emergency at both the state and federal levels."
While there can be different approaches to emergency planning depending on the size of the organization, the motivation and end result are the same: safety. "There can be a lot of differences, but I suppose the biggest difference is: who is doing the work of creating and executing the plan?" says Hathorn. "In a larger community, you may have a professional management company, an attorney and engineer that help develop and execute the plan. Whereas in a smaller community, you might just have the volunteer board members and community members developing the plan and executing it."
W.B. King is a freelance writer and a frequent contributor to The South Florida Cooperator.