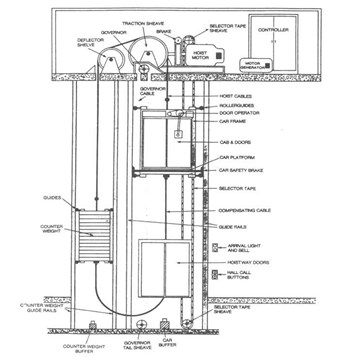 Any building in South Florida that is taller than, say, five stories usually has an elevator—and often, new buildings of even three stories have an elevator. If you live in a high rise co-op or condo building on Collins Avenue in Miami Beach, chances are that you use an elevator every day.
Chances are also that you don't give much thought to it, and when you look at the inspection report posted inside the elevator cab, you don't spend much time analyzing it. Yet, elevators are essential to any mid-rise or high-rise apartment building. See how upset people are when their elevator is out of service for even a few hours!
In the Beginning
There have been elevator-like hoist devices throughout history, but in 1853, American inventor Elisha Otis invented a freight elevator equipped with a safety device to prevent the elevator from falling in case a cable broke. This advancement paved the way for elevators to become commonplace in commercial and then residential buildings.
While the first passenger elevator was installed in a New York City department store, the first passenger elevator for residential buildings came into general use around 1877. But before World War I, elevators were still fairly rare and confined to upscale apartment houses, prestigious office buildings and fancy department stores. Many of the elevators of that period resembled luxurious drawing rooms, with small couches, wood paneling and uniformed operators.
Computer-Aided Design
Today, we see two basic types of elevators—hydraulic and "rope-driven." One far-reaching change in the elevator industry, as in all industries, has been computerization. Whereas elevators 40 years ago or so were either controlled by relays or by an older type of solid-state controls, according to Brian Black, code and safety consultant for National Elevator Industry Inc., they are almost all computerized nowadays. That said, according to Black, "most elevators of any age are not obsolete. You can modernize systems; modernize old relay systems with a computer. Many elevators are being modernized on a regular basis. There's no reason any elevator should be obsolete."
Some of the most recent elevator design improvements are safety-based. One example is a device called a rope gripper—if an elevator should move on its own (because of an error), the rope gripper will sense this and grip the cable, preventing it from moving further. And in general, in newer solid-state elevators, the car won't move unless all the circuits are operating and all the doors are closed.
Oversight and Inspection
According to Andrew Grabin, sales manager at Mowrey Elevator, which has offices in Davie and throughout the Southeast, elevators for the most part are inspected annually. Broward County, he says, has its own elevator code and own elevator division. Likewise, so does Miami Beach.
Elsewhere in Florida, the Bureau of Elevator Safety works to ensure elevators and escalators throughout the Sunshine State remain the safest mode of transportation. The bureau enforces elevator safety laws and licenses and regulates industry professionals, elevators, escalators, and other vertical and inclined conveyance devices such as dumbwaiters, moving walks, stairway chairlifts and inclined or vertical wheelchair lifts.
The bureau is charged with enforcing Chapter 399 of the Florida Statutes, Chapter 30 of the Florida Building Code, the American Society of Mechanical Engineers (ASME) Safety Code for Elevators and Escalators, the State Fire Marshal's Uniform Fire Safety Standards (NFPA 72), and portions of the National Electrical Code (NEC 70) and the Americans with Disabilities Act.
One recent change in the law is that building owners are now responsible for keeping their elevators in good repair. The Florida Legislature made certain revisions to Chapter 399 of the statutes—known as the Florida Elevator Safety Act—to require that the owner/operator make sure the elevator meets all safety requirements annually. It is now the owner's direct responsibility to schedule an annual safety inspection before they can obtain a Certificate of Operation. Grabin says Chapter 399 spells out when you have to get inspections done, how to get a C of O and, what needs to be done to correct any violations that may arise.
With the exception of Broward and other municipalities like Miami Beach that have their own inspectors, privately-employed certified elevator personnel perform the required annual inspections, tests, and maintenance, according to Grabin. Only Certified Elevator Inspectors with the American Society of Mechanical Engineers (ASME) Qualified Elevator Inspector (QEI) credential who are registered by the bureau are able to conduct elevator inspections.
"In Florida, the elevator industry inspectors are privatized but they're all regulated by the state," says Grabin.
Testing, Testing?
Annual pressure tests are done on hydraulic elevators once a year and traction elevators have Category 1 and Category 5 inspections as well. "There's no biannual tests," he says. "If you do a major alteration to your elevator and the permit is pulled you have to do an alteration inspection but as far as a yearly test, there's just a one pressure test for hydraulic elevators. On traction elevators you have to do a yearly test to check the safeties and everything—that is a Cat 1—but then there's a Cat 5, which is a five year test, which checks the brakes and the safeties," Grabin says.
Testing of the elevators can involve operation of an elevator's emergency braking system, verification of its speed regulation systems, or verification of the elevator's pressurized vessel integrity, as well as many other safety features often unseen by the riding public, according to Grabin. Another part of the elevator code that is required monthly is conducting a fire safety elevator recall test.
Florida has a much higher percentage of hydraulic elevators, than say, a place like New York where there are much higher buildings, he says. High-rises in Miami Beach, North Miami Beach, downtown West Palm, for example, have a number of traction elevators.
It's basically the responsibility of the building owner or manager (or, in the case of a condo or co-op, the board) to keep up to speed on these codes, new developments, and inspections, notes Black. So what is a good elevator maintenance inspection schedule—both as mandated by law, and as recommended by industry experts?
"You should have preventive maintenance done on the elevators once a month. It should be done monthly. We come out monthly but a lot of the other elevator companies say they'll come out for regularly scheduled visits—they're not guaranteeing that they'll be out there monthly. We do. It keeps the doors adjusted. You see, 90 percent of the problems with elevators could be the door equipment."
Costs for an inspection can vary widely. Some municipalities choose to regulate the costs of inspections for the elevators located within their boundaries.
Black further describes what tests can reveal. "They will show if there are suddenly unintended car movements, whether the car is going too fast, or malfunctioning. The governor—a device that ensures that the elevator doesn't overspeed—gets tested on a yearly basis. Devices that provide emergency power if there is a power outage would be tested once a year to be sure it kicks in properly. Door systems are tested once a year—you want to ensure your doors are opening and closing properly. You don't want to close too quickly or strike a passenger."
What are some of the most common problems affecting South Florida's residential elevators? Problems, says Grabin, most typically involve interaction points with passengers. Doors which do not close due to obstructions in their path, like debris getting stuck in the door tracks, he says. This could cause an entrapment if the doors do not function properly.
Red flags in an inspection could be oil leaks, malfunctioning doors, wires shorting out and electrical equipment not working properly, doors not leveling to the correct floor, according to Grabin. The average life span of an elevator is typically about 30 years and when you get to the end of that life cycle, there is a lot more maintenance involved.
Training and Licensing
Elevator experts always recommend looking for a licensed contractor. Technicians are licensed by the state and are required to have a certificate of competency. Inspectors have a QEI license. Grabin says his company even holds its own monthly safety classes to make sure they stay ahead of the curve. Individual companies have to be licensed by the state and the license is required to be renewed annually, he says. An elevator apprentice does not need certification but is required to be under the direct supervision of elevator personnel that have their CC license, noted Grabin.
"We would just like to stress the importance of having the elevators serviced monthly. You should do the preventive maintenance monthly. It just eliminates lots of problems, and when there's no problems, everybody's happy," says Grabin. "There's no shutdowns, no entrapments. And it saves everybody money, if there's no calls in between then they don't get billed and parts last longer and it lengthens the life of the elevator. So preventive maintenance is key in our book. We take that very seriously. The more you do preventive maintenance, the less problems you're going to have and the longer the elevator is going to last."
With a good relationship with an experienced contractor, addressing any problems promptly, and good care by your residents, your elevator should be operating on the up-and-up for years to come.
Raanan Geberer is a freelance writer and a frequent contributor to The South Florida Cooperator. Managing Editor Debra A. Estock contributed to this article.