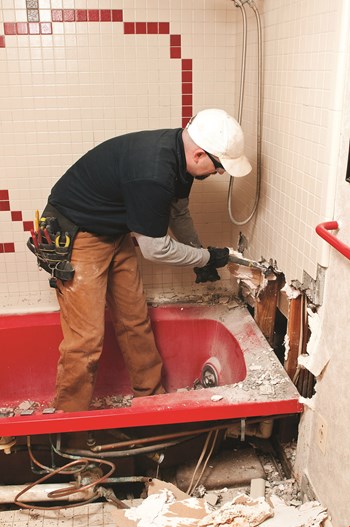 All you have to do is turn on the TV these days to know how popular kitchen and bathroom renovations have become. Backsplashes, stainless steel appliances, subway tiles, granite countertops, glass-enclosed showers, soaking tubs—the list of enticing upgrades and jaw-dropping additions now available seems nearly endless. And certainly those upgrades and renovations can add to the value of a property as well as the enjoyment factor that comes out of having a shiny new space in the home.
There are a lot of factors to consider, though, before launching a kitchen or bath renovation, including an understanding—and acceptance—that these can be among the most complex types of renovation projects. Fortunately, with proper planning, vigilance and a little bit of luck, they also can turn out to be some of the best investments a homeowner can make—with minimal disruption and hassle for boards and managers.
Plan Early
As exciting and fun as it can be, planning early for a kitchen or bath renovation does not, unfortunately, mean spending late nights on Pinterest or leafing through glossy home magazines or being glued to HGTV's ad infinitum renovation shows. One of the most important first steps is to contact your property manager to get a copy of the building's alteration agreement and to learn more about what is expected and required for a successful renovation project.
Doug Weinstein, vice president of operations for Manhattan-based management firm AKAM Associates, says that his firm provides an alteration agreement package to residents interested in undertaking a renovation project. "The cover letter states the responsibilities of the resident," he says, adding that alteration agreements vary by building, and each building may have different requirements specific to kitchens, baths and other types of projects.
"Every building creates its own agreement, like requirements for architectural review or for specific builder's hours" says Weinstein. For example, "Some buildings only allow alterations during the summer months, or they limit the length of the alterations to 12 weeks. It's a document that's always in flux."